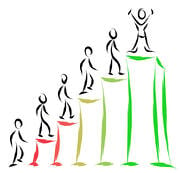 Oftentimes, the family is but a supporting player on the entrepreneurial journey. But in many cases, generations of family members have been integral in the past and ongoing operation. This can add an extra dimension to business growth that can, if managed appropriately, give your business unique staying power and a strong foundation for a lasting enterprise to be enjoyed by future generations.
Many consider family businesses to be the backbone of the American economy. The Conway Center for Family Business, which tracks trends in this segment, cited studies that show that about 35 percent of Fortune 500 companies are family-controlled -- representing the full spectrum of American companies from small business to major corporations. Conway also noted that family businesses account for fully half of the U.S. gross domestic product, generate 60 percent of the country's employment and account for 78 percent of all new job creation.
PwC, in a study on family business, goes a step further, calling such enterprises "a resilient model for the 21st century."
I had the opportunity to sit down recently with Brian Carroll, CEO of Carroll Enterprises, to discuss the unique advantages that family-owned business have in creating high-level and long-term business strategies. Brian's company has advised small businesses for more than 45 years, and is, in fact, a family-owned, multigenerational enterprise.
Beth Somplatsky-Martori: How does being "a family-owned business" impact your planning cycles and business investments compared to a public corporation with their quarterly reporting cycles?
Brian Carroll: Family-owned firms take a long view on growth, investment and capital decisions. The greater the desire for the next generation to participate, the longer the view. If the business has reached a liquidity event as a result of being run by the end of the line generation, then the P&L planning view becomes more quarterly in nature. Other factors affecting the long view include real estate holdings in the name of the business that can be monetized in different ways over time; non-working family members who desire annuity type dividends over time; unique patents that can be monetized; and family-owner lifestyles that have become part of the business.
A more recent trend has emerged, by which large and small family-owned businesses have started quarterly Board of Directors meetings with outside paid directors. Such an action brings some shorter-term focus on P&L and planning decisions without sacrificing long-term objectives. A paid board can aid in succession planning issues -- particularly in cases where the next generation might be considered too young for effective leadership -- or they can assist in a liquidity event planning if it's time to sell.
BSM: How does being family business impact your ability to make strategic decisions? Examples?
BC: Strategic decisions in a family business require input from the market, management and family. Non-family businesses typically require input from the market and management only. This third source of feedback is necessary, and, I would argue, equal in weight with the other two. If the family members give too much input, the resulting decisions can be myopic. Likewise, if the family is not consulted on strategic decisions enough, then plans can become undermined. If all three inputs are balanced, a consensus decision normally results.
BSM: Do you think that being a family business has increased your ability to be entrepreneurial? Why?
BC: Being entrepreneurial is more of a function of the personalities of the family management team. Does one family member desire to start something new, like grandpa did? Sure -- but at what cost is the family business willing to invest in a new idea just to out-do grandpa? With that said, a family business tends to have a more entrepreneurial culture because the family management team could be diverse over the generations. Typically, I see entrepreneurial decisions skip generations. One generation comes up with the idea, the next grows it and then the next generation either blows it or re-invents it. The longer the strategic planning view, then one would expect the capital reserves and hard assets of the family business would finance entrepreneurial ideas.
BSM: Do you think being a family business has increased your commitment to create jobs in your community? Explain.
BC: Family businesses attract employees who know right up front that they are working in and for a family-owned business. As such, these employees tend to want this type of workplace because it offers employment stability, low turnover of management and consistency as one becomes "part of the family." Our community is important for word-of-mouth hiring as our employees become our brand ambassadors for new talent.
But the world is getting flatter. A community-based workforce can limit workforce education, sophistication and ambition over time. If the family business can best achieve growth with an overseas cost advantage or a more high-tech workforce found only in a far away community, then the family business needs to cap or even withdraw its workforce in its core community to be more competitive and grow elsewhere.
BSM: Do you think being a family business has impacted how you do work with your business partners? Do you believe it is a source of competitive advantage?
BC: Like employees who choose where to work, some business partners only do business with us because we are family owned. The dependence on quality as a result of the family name being on the product means something. That's the competitive advantage. But, there are also business partners who will not do business with a family owned firm if they fear a liquidity event could be near or if they lack confidence in the next generation of management. So it works both ways. I found just being transparent about who we are and how we grow lets business partners decide if it's a good fit for them.
In the second part of our series, we'll take a closer look at special challenges – like capital calls, new partnerships and new business risks – that can cause strife at the family boardroom and dinner table.
What are your thoughts on the unique advantages that family businesses have in creating long-term, business growth?