Pioneering CMO has driven growth for global enterprises large and small, and will now guide mid-market businesses as a part of the "Executives-as-a-Service" firm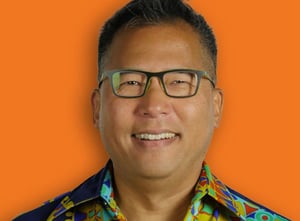 LOS ANGELES – March 13, 2018 – After accelerating global revenues for some of the world's most beloved companies, pioneering growth marketer Steve Seto has landed at Chief Outsiders – where he will lend insights to small- and mid-market businesses as the firm's newest fractional Chief Marketing Officer.
Seto extends the recent growth arc of Chief Outsiders, which has vaulted to the top of the nation's management consulting firms on the strength of unyielding demand for executives like Seto – laden with decades of experience and available immediately to help drive B2C and B2B growth by expanding customers, channels and geographies, repositioning under-leveraged businesses, and innovating new products and services.
Seto has driven growth across all phases of the business lifecycle as the marketing leader for enterprises spanning mobile/telecom, omni-channel retail, consumer products, technology, not-for-profit, luxury and international. His marketing strategies achieved exponential growth for companies including HTC, Starbucks, XPRIZE, Kraft Foods and Nishimoto Trading Co.
Seto is able to translate insights into results through a straight-forward formula: focus the executive leadership team on the right priorities; identify market opportunities that the company can uniquely fulfill; develop or reposition products that fit the need; and install the organization that can efficiently and affordably execute the integrated program.
"Steve is the epitome of what constitutes a successful Chief Outsider – quickly assessing a company's growth opportunities, helping it to find its right path for growth, and polishing those diamonds in the rough where hidden value lurks," said Karen Hayward, Managing Partner of Chief Outsiders' West team. "Steve is an expert on getting companies focused on the fewer, bigger, and better opportunities that will drive higher margin and sustainable growth."
Seto holds an MBA from the Kellogg Graduate School of Management at Northwestern University, and a B.A. from the University of California, Los Angeles. Based in Los Angeles, Seto enjoys ukulele, rowing and midcentury modern design, volunteers with community development groups in Japan, and teaches an MBA-level course he developed, "Brand as Business Strategy."
About Chief Outsiders
Chief Outsiders, LLC is a nationwide "Executives-as-a-Service" firm, with more than 60 part-time, or fractional, Chief Marketing Officers (CMOs) engaged from coast-to-coast. Unlike other strategic marketing and management consulting firms, each CMO has held the position of VP Marketing or higher at one or more operating companies. Chief Outsiders have served on the executive team of over 600 client companies to drive growth strategy and execution plans for a fraction of the cost of a full-time executive.
Because of its market-based growth plans, quality of leadership, and experienced team, Chief Outsiders has been recognized for the past four years by Inc. Magazine as one of the 5,000 fastest growing privately held companies in the US, and was recognized in the Houston Business Journal's Fast 100. Chief Outsiders' CEO Art Saxby and Principal Pete Hayes are the co-authors of "The Growth Gears: Using a Market-Based Framework to Drive Business Success," an Amazon #1 best-seller for business owners and CEOs. For additional information about the companies who trust Chief Outsiders as their premier source for business growth acceleration, click here.