Tallman Insights discovers seven blind spots and recommends thirteen emerging strategies to drive growth in private equity portfolio companies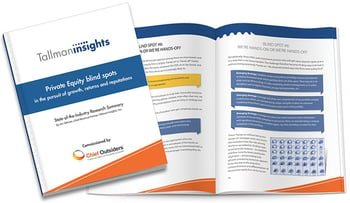 AUSTIN, TX – August 7, 2018 – An insightful study was released today that identifies seven blind spots evident among private equity firms seeking portfolio company growth. Conducted by customer research and go-to-market integration firm, Tallman Insights, the report identifies the commonly used "Table-Stakes Strategies" that are growing less and less viable in today's growth-critical environment. Then, it recommends thirteen "Emerging Strategies" for PE firms to consider to differentiate themselves, get more competitive and add more value.
The findings were based on extensive interviews with thirty mid-market and lower mid-market PE firm partners, and CEOs of portfolio companies. "I was surprised by our discussions with PE stakeholders in a couple of ways," said Jim Tallman, who led the study. "First, it was interesting to see how prevalent many of these perceptions – potential blind spots – seem to be. I was also struck by how similar most of the firms were." His 19-page report is quite critical of the current state of competitiveness in driving growth. "Only a handful seemed to be pursuing the emerging tactics for adding value and manufacturing growth versus more traditional strategies of selecting companies carefully and waiting for the growth," Tallman added.
Insights such as these are quite valuable; not only for private equity firms and their portfolios, but also for service providers. Chief Outsiders, the leading national firm of fractional CMOs, commissioned the study in search of insight relating to how PE firms approach growth. "Understanding how PE can better tackle growth challenges is central to the value we provide firms and their company CEOs," said Pete Hayes, principal and CMO for Chief Outsiders. "Most mid-market companies are missing opportunities to better align their offerings with the marketplace, subsequently build their go-to-market strategies, then operationalize the disciplines to create a lasting engine that will drive long-term growth. Tallman Insights did a great job of fleshing out the critical growth factors."
A copy of the 19-page report is available here: Private Equity Blind Spots - In the pursuit of growth, returns and reputations
About Tallman Insights
Tallman Insights is an Austin, Texas-based firm serving business-to-business, technology enabled and acquisition-intensive organizations. We uncover customer insights that are otherwise unseen, and help investors, leadership teams, and sales teams use those insights to increase go-to-market results up to 10x. Visit www.tallmaninsights.com