Ann Arbor, MI (PRWEB) September 04, 2013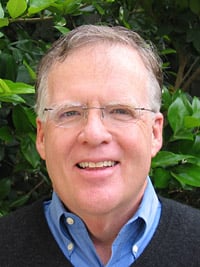 Tom McCrary, Managing Partner and CMO at Chief Outsiders, one of the nation's most innovative marketing strategy firms, will hold a session on October 2, 2013 at 7:30 AM EDT at ZingTrain's training space at 3728 Plaza Drive. The presentation will explore how companies can leverage their mission, vision and values through marketing strategies.
McCrary's session will cover the following topics:
Achieving business objectives by aligning with companies' purpose, multi-bottom lines and culture
Uncovering insights that create an opportunity for sustainable and profitable growth
Transforming internal organizations to enable more efficient brand-consistent communications and implementation of strategies
Creating marketing strategies that are aligned with your mission, vision and values and become touchstones/decision rules that help guide the organization
The workshop will begin with a breakfast and 30-minute meet and greet, followed by an hour-long presentation and will close with a Q & A session.
"I thrive on helping committed business leaders develop a strategic market plan that allows their businesses to change and expand beyond comfortable practices. I believe a marketing strategy grounded in insight is imperative to solve problems, business objectives and achieve growth," says McCrary.
McCrary is a visionary marketer and strategist with extensive knowledge and expertise in the creative marketing process, target marketing, product/service lifecycle marketing and field marketing and sales.
His specialties stem from his background in consumer products and services, professional and financial services and hospitality, travel and energy. He has worked in a wide range of industries, sizes and structures, including Frito-lay, Embassy Suites, Tony Roma's restaurants along with many others.
Contact Tom McCrary at tmccrary@chiefoutsiders.com and learn more about Tom by reading some of his recent blogs.
About Chief Outsiders
Headquartered in Houston, TX, and silver winner of the American Business Awards "Company of the Year", Chief Outsiders serves mid-sized companies from coast to coast with part-time CMO services. Chief Outsiders is unique among strategic marketing consulting firms, taking businesses to the next level by working as part of the leadership team on a fractional or as-needed basis. Unlike most marketing consulting firms, Chief Outsiders believes that delivering a world-class marketing strategy on its own, creates very little value. The real value is created by helping the organization implement the growth vision.
Chief Outsiders has been a premier source for marketing expertise, execution and leadership for companies such as i2C, AbsolutData, Bethyl Labs, Auto Load Logic and Riverside Company portfolio companies including OnCourse Learning, YourMembership.com and IDoc.
About ZingTrain
ZingTrain is the training entity in the Zingerman's Community of Businesses (ZCoB). Through ZingTrain, ZCoB shares the "Zingerman's experience" with forward-thinking organizations from around the world. ZingTrain's managing partner, Maggie Bayless and her team, use their experience in training and organizational change to help clients understand and apply the real-life systems, tools and techniques used at Zingerman's, helping clients make meaningful, bottom-line-enhancing changes in their own organizations. ZingTrain, shares Zingerman's expertise in training, service, merchandising, specialty foods, open book finance and staff management with the public through seminars and customized workshops.
For more information about ZingTrain, contact Gauri Thergaonkar at gthergaonkar@zingermans.com and 934.930.1919.