About Christa
A 2021 ICON Top 10 Marketers Award Winner. Christa is a growth strategist, product deployment expert, customer relationship management (CRM) tech-stack, and business process expert. Using her curiosity for data-based acceptance testing along with forecasting and entrepreneurship experience, Christa provides strategies that generate sales growth. She is an expert in CRM customer relationship management, deployment, business process, entrepreneurship, acceptance testing, public relations, social media, forecasting, sales and marketing strategies. Her deployment of innovative marketing campaigns using SEM/SEO, digital marketing, social media and strategic planning leads proven lead generation and sales growth.
How Christa has Helped Businesses Grow
Launching New Products:

Launched 12 new products in three years with social, content and digital lead generation engines generating 47% to 70% growth in leads, website views and more at Partners in Leadership.

Content and Digital: Partnered with Forbes Media for launch of the Forbes School of Business and Technology at Ashford University. Content and digital engines employed, app developed and CX.
SaaS: Launched the largest global online print network (SaaS) and managed five profit centers with $1.1B in sales atTheUPSStore.
SaaS Revenue: Increased product line revenues by 12% and EBITDA by 7% through the creation of a strategic product road map.
New Divisions: Drove sales increase of 51% year/year in new products introducing and executing plans for new chemical and equipment divisions at Rhino Linings. Increased new dealership sales 22% managing inside sales.
Lead Generation: Generating a lead explosion with customized messaging for a scheduling software client. Creating unique customer experiences, using customer journey approach for client (email, interactives, content, SEO and more) resulted in a 20% increase of organic clicks, all from very targeted audiences in 5 new vertical markets.
Geographical Marketing Expansion: The client, based in a small geographic area, wanted to double sales within one year by expanding into new cities with fresh messaging and branding. By using unique marketing approaches, new messaging and lead generation outreach, sales increased over 300%.
Branding and Messaging FinTech: Deployed an evolution of the company's go-to-market strategy and built a more effective and scalable marketing engine. Evolved the company's positioning and shifted marketing to focus on demand generation leveraging high-value content, clear buyer personas, a refined solution hierarchy and a complete rebuild of the company's website. This lead to a doubling of marketing-influenced new business opportunities and a consistent 100%+ growth in key marketing metrics and sales.
Awards and Honors
A Top 10 Peer Selected Marketing Awards Winner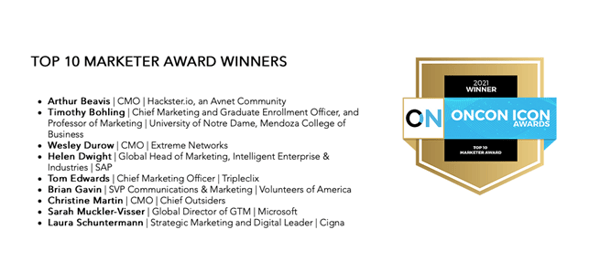 Executive Experience
VP of Marketing, Product Development, UPS, The UPS Store
SVP of Marketing, Culture Partners (formerly Partners In Leadership)
AVP Marketing for The Forbes School of Business and Technology, University of Arizona Global (Formerly Ashford University)
Director of Global Marketing and Sales, Rhino Linings
Principal, The Strategen Group, LLC
Associate Director, The Ohio Academy of Science
Faculty - Marketing, Sales, Technology Management, PR, University of Phoenix
Education
BA, Chemistry, Virginia Tech
MBA, University of Phoenix
Graduate: Material Science Engineering, University of Minnesota
Graduate: Electrical Engineering, University of Houston
Executive Education, Harvard Business School
Certificate: AI – Business Strategy Implications, MIT
Certificate – GCP – Introduction to Clinical Trials and Drug Development
Certificate: Professional Designation in US Medical Device Regulatory Affairs
ATD Licenses – Change Management and Leadership Development
Testimonials
"Christa is one of the most strategic and impactful marketing leaders I have ever had the pleasure of working with. Her ability to accurately and effectively develop marketing strategies, that not only impact departmental objectives and outcomes but prove to be powerful methods that help the overall company achieve its financial and growth goals. Companies that are eager to grow and scale to success need leaders like Christa, where they take ownership and accountability of a strategy, think about it from all angles, and uses the power of data to build, drive and execute on any successful strategy."
Devin Simonson, Head of Marketing at Rubbl
"It was a pleasure working with Christa on the launch of our new sliding glass door system. Her skills and industry contacts really helped to keep the project on-time and within budget. I really appreciate somebody who can take the reins and move a project forward!"
Mario Hernandez, President at Glazcon Industries, Inc.
"Having worked with Christa for three years, I can say that she is an incredible marketer, inspirational leader, and mentor. In over 20 years of working in design and marketing, I have never had a manager that I have learned more from and respect more than Christa Martin. Truly Incredible!"
Jason Bullock, Director of Marketing and Student Outreach, California State University, San Bernardino
"I highly recommend Christa to lead any team, department, project or organization. Her passion for doing what's right for the organization and her team is beyond anything I have seen in my several years of experience. Christa is an expert in every sense. Extremely intelligent on many subjects and situations. I would be honored to work with or for Christa in the future."
Daniel Plant, VP of Marketing at Engineered Tax Services