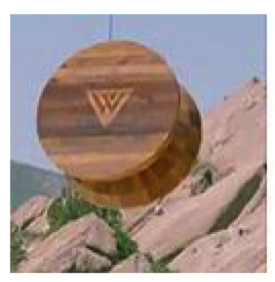 Marketers for Benjamin Moore Paints, intent on promoting their ArborCoat Stain that "makes old wood look like new," recently built the world's largest yo-yo out of old deck wood.
This man-sized toy, measuring six feet in diameter and weighing nearly 400 pounds, sets a new standard for spin.
The team carted it out to the desert and dropped it from a 100-foot crane. Like too many marketing campaigns, it went up and down a few times, and then came to a complete stop, hanging out there inertly.
Whether you see this guy trick as a lovably retro attention-getter or a stain on the profession of marketing, there's no doubt it was calculated to amuse. But will it monetize? Who in Benjamin Moore marketing could know whether it would be an effective marketing strategy, before deciding to drop hundreds of pounds of cash to find out?