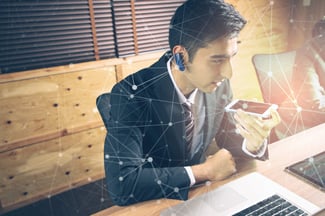 As you get your staff and business operations ready for 2019, it's also critically important to consider your marketing plan. Since your customers expect to easily find and enjoy the products and services they need and desire, you'll need to invest in more customization and ease of use than ever. By sharing my annual "What's Hot" list with your marketing department now, they can begin prepping for the changes and alterations they need to make to better reach your target audience and enjoy a full year of success.
Let's get started by diving into the top five trends you need to know:
The Most Essential Digital Marketing Tools for the New Year
Voice-Powered Search
Voice-powered search was hot in 2018—and the trend will continue to rise in the new year and beyond. While ComScore estimates that half of all search queries will be voice-based by 2020, TechCrunch reports that over 47 million adults currently have access to a smart speaker. Since customers now know the technology makes their lives easier, voice recognition technology is only expected to grow bigger and better.
For now, the majority of voice search usage is based on necessity. People use these tools the most when their hands are full or when they're driving. However, as accuracy rates improve and consumers become more accustomed to having their needs met, expect to see brands competing as they struggle to figure out how to be found in voice searches.
To get in front of this trend, think about the differences between text and voice search as it relates to your site's content. Consider what your customers might say, rather than type, when making a search query. You can get started by writing short blogs and product descriptions in a more conversational tone to create content that better aligns with voice search.
Virtual and Augmented Realities
When most people think about Virtual and Augmented Realities (VR and AR), they tend to think about video games. However, there are a variety of additional opportunities for brands to use these technologies to improve their customer experience and bring consumers closer to their brand. As an example, IKEA created a Virtual Reality Kitchen. It is a shopping app designed to let customers try out different IKEA solutions before buying them.
Potential buyers can experience the look and feel of an updated kitchen, moving about the virtual space while selecting different cabinet and counter top combinations. Lowe's is another home improvement brand to experiment with VR technology, having introduced a virtual experience in select retail locations. Their idea is to provide customers with immersive training so that they feel confident in undertaking DIY projects. When customers put on the VR headset, they will be given instructions on how to complete a task such as putting up a shelf.
Review your sales and marketing data, including customer feedback, to determine if your target audience needs to try out your product or service before buying it. Investing in a web or mobile application equipped with VR can help you close deals, especially if you don't have a brick and mortar store.
AI-Powered Solutions
Artificial intelligence tools like Siri and Alexa have become household names. They're not only programmed to provide excellent customer service, but they also allow consumers to find and order products faster and easier. Because of these benefits, OC&C Strategy Consultants predicts that 55 percent of homes will feature AI-powered solutions by 2022.
Software developers will spend much of 2019 making these offerings more intelligent and personalized. Creating a smart AI-powered application for your business now will help you reach your ideal customer with greater accuracy. Since the technology will only continue to improve and serve people better, your business will increase efficiencies over time and pave the way for even better customer experiences.
Video Marketing
Video marketing will still be one of the most popular tools in the new year. A whopping 90 percent of consumers say video helps them make their buying decisions, while landing page videos can increase customer conversion rates by as much as 80 percent. Business informer Forbes says every company needs video marketing, since it represents pure connectivity, provides an excellent return on investment, and offers increased social sharing opportunities.
The stats make sense, as the average attention span is short, and most people would rather watch a video than read a lengthy article. Remember in 2019 that marketing only succeeds if it delivers what consumers want—especially when and how they want it. Done well, video marketing produces amazing results. According to HubSpot, simply adding a video to an email boosts click-through rate by a staggering 200–300 percent. Think about your current marketing tools, and how you can add short, personalized videos to each strategy.
Sales Funnel Personalization
Attention is now a currency. This is why impersonalized email blasts and ads are going the way of the telephone landline. If you're advertising in 2019, it's essential to hyper-target your customer segments and focus on personalizing every interaction.
Niche landing pages should be connected to each of your digital advertising campaigns, while investing in several targeted social media marketing ads and pay-per-click campaigns will help you better reach every demographic and personality. Glean information about how to address your audience, including the right words to use, by gathering analytical data and using detailed customer sign-up forms.
Improving Your Reach and Closing More Business in 2019
A combination of personalization and innovative offerings will make you stand out from your competitors in the new year. If your ideal customer can locate and use your products and services quicker and easier than the others in your industry, you will reach more targets and begin to build trust among your audience. Keep each of these tools in mind when you consider how to update your current marketing strategy for both new prospects and current customers. Finally, make sure your team stays up to date on changes in marketing trends, which will undoubtedly occur throughout the year and into the future.