Time to Hide or Double Down? Riding the 2020 Wave
Establishing order in the midst of chaos can be most elusive, wouldn't you agree? Just ask poor Chip Diller, the do-gooder ROTC cadet portrayed by Kevin Bacon in the seminal college movie classic, "Animal House."
Surrounded by fleeing masses in a parade gone wrong, and about to be bulldozed by a stampeding crowd, Diller thrusts out his hands and, gathering as much gravitas as possible, shouts, "Remain calm. All is well!" before he's swarmed by the crowd and trampled into a facsimile of "Flat Stanley."
Remain Calm. All Is Well?
In today's economic times, we, too, are being fed reassuring words – by banks, the Fed, and politicians who have plenty to gain if the cash is flowing – especially when most everyone believes there's no end in sight for the rolling good times.
In fact, according to a Wells Fargo/Gallup survey conducted this past October, 56 percent of business owners said they believe the economy is on the right track for their company to grow over the next 12 months. In a similar vein, only 11 percent of business owners surveyed felt like a downturn or a recession is looming in 2020.
In reality, 2020 is turning out to be a mild period of softening that will likely be followed by accelerated growth by year's end. Although you won't hear via most news-worthy mediums, many unbiased sources believe this to be the case, including the team at ITR Economics, who I introduced in my last blog.
In blog No. 1, you may recall mention of "confirmation bias" – the tendency to accept what we hear and see from the media because it supports our position or belief. Conversely, confirmation bias occurs when one dismisses information that is counter to their position or view.
How Are We Doing?
I also talked about the critical internal data that can help a business owner diagnose company growth health over time, the 3/12 and 12/12 monthly moving trends.
But what of the greater economy – and in particular, factors that you can't control but will impact your marketplace, suppliers, and clients? How do we jettison confirmation bias, sprinkle in a healthy dose of what we've tracked about our internal growth, and best prepare for the rocky times (or opportunistic ones) to come?
A whopping 75 percent of respondents to the survey mentioned above believe they have the right strategy to handle changes in economic conditions. Any changes. That's significant! Are they overly confident?
Yes, I'd say so.
What if you don't have a good handle on the coming economic changes? Can't see any chop in the water from your perch? What if your strategy is implemented reactively rather than proactively?
How could that be the right strategy?
The Indicators Are In Alignment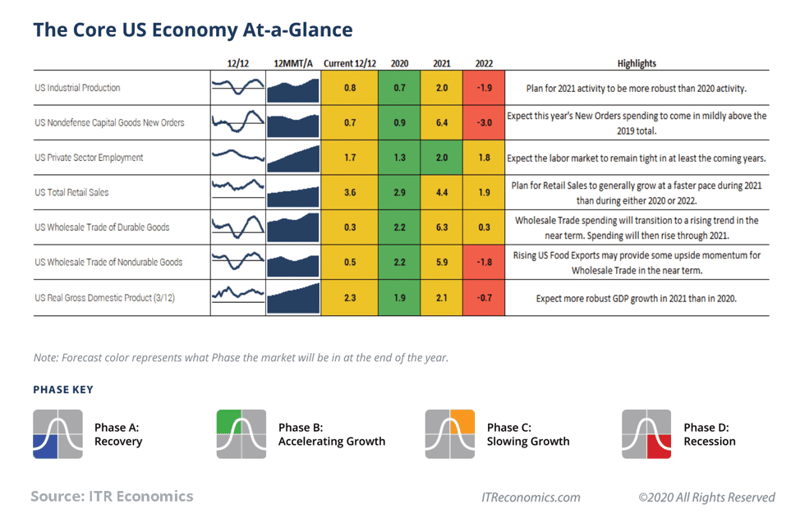 Based on ITR's analysis of the core U.S. economy at a glance (February 2020 Trends Report), we can see that the leading economic indicators hint at slowing growth/Phase C across the board (see "Current 12/12" column). Such a trend is a clear indication that few market segments in the U.S. will be untouched by softening growth in the first half of 2020 – making it critical for you to take a closer look at market-specific indicators that can particularly impact your business.
That said, this doesn't mean you need to dive for the underground bunkers and re-emerge in July. Remember, the point of this series is to give you the foresight to get ahead of market trends – before they get on top of you. Using both internally-gathered data, and market-driven insights, you can formulate the smartest plan for your company – one that, depending upon your industry, might prompt you to double-down on a particular management strategy, instead of pulling back along with your competition.
For example, if you are a manufacturer, you may recognize that new US manufacturing orders in general are predicted to soften, but orders for metal-working machinery and construction machinery are forecasted to hold steady. If you produce components that are deployed in this sort of machinery manufacture, you might consider stabilizing, or ramping up, production rather than pulling back.
The takeaway? Without specific economic insights into your market segment, you might make the wrong move, and end up bust!
Tracking Your Rate of Change
Again, a great resource to tap would be ITR Economics' monthly Trends Report. Armed with that knowledge, you can classify what rate of change your industry is undergoing, and plot an appropriate management strategy. There are four growth phases, and your business currently sits in one of them:
A: Recovery
B: Accelerating Growth
C: Slowing Growth
D: Recession
Understanding which phase your business is in as well as the condition of the external market is critical! For illustration, I'll be fully transparent by sharing an example from my own past.
Many years ago, my partners and I acquired a profitable little company in "Nowheresville," Tennessee, that produced candles and botanical potpourri. Yes, it's true. The owner was tired and wanted out, and we wanted in. We struck a deal and boy, we ultimately learned the hard way two very tough lessons:
One will seem obvious – in a slowing economy/recession, people are less likely to make an impulse purchase like a high-end scented candle. You see, unbeknownst to us, we bought the business when the economy was softening as was the company's growth trend. At the time, we didn't have the tools or insight to see the economic boom we thought would last indefinitely, had actually already ended before the ink on the acquisition documents was dry.
The second lesson was a bit more nuanced in that the economy of suppliers outside the US was particularly robust, and we would ultimately have to pay a premium for many raw materials needed to produce our products. Compounding these trends did not do us any favors – though I learned a valuable lesson about the importance of economic market-based knowledge.
Now, if you've stuck with me since my first blog, you should have a working understanding of your businesses' internal economic health (3/12 & 12/12 MMT), and you are hopefully prepared to gain insights on opportunities and threats borne of external forces. So what's next? In Blog #3, I'll discuss some specific management strategies you can embrace for each of the four phases.
Recognizing where you are is half the battle. Doing something about it is the other half!