Today's Automation Tools are Designed to Make Your Digital Tasks Flow More Smoothly
I recently hired Danielle, an administrative and marketing assistant, to help me with my workload. Since I haven't been able to use technology to fabricate more hours in the day just yet, Danielle helps me to optimize the hours that I do have – as a crucial piece of my team, she assists me with administrative support, the management of my business schedule, and various marketing projects.
I pay Danielle between $20 and $30 an hour — cheaper than my hourly rate — and in turn, Danielle examines her assignments, and decides if she needs someone to complete smaller projects for her, at a fraction of her hourly wage. Both she and I use automation software to help lighten the workload, and her assistants do, too. My customers who need a CMO who produces tangible marketing results hire me on a part time basis, focused on outcomes, and not a full time "attendance" model. This model is working really well for us, and has frankly redefined our past ideas of the value chain. This is just one example of how we're always wearing our "growth-hacking" glasses in marketing today.
And a bunch of new apps and technology solutions is now taking this to the next level. A new era of technological productivity is upon us.
We have begun to automate their daily lives, moving from what was once the programming of simple marketing and business processes — such as automatic email folder organization and automatic out-of-office reply — to the mechanizing of our marketing processes, business workflow, administrative strategies, and even daily communication. Indeed, we've become very comfortable with automation in our lives, to the point where we can't live without it. The automation evolution is now taking our productivity potential to completely new heights but, humans are still the bottleneck in getting things done—not the technology.
There is so much for us to respond to, like, share, post, receive, and complete that we need help from automation tools to keep us from losing our way. Enter the new generation of the automated self-hack, and the modern face of automation.
In addition to our contemporary way of thinking and looking at marketing challenges, today's automation tools are designed to make your digital tasks flow more smoothly. Here are a few of my favorites:
The Fresh Face of 10 Automation Tools
If This, Then That (IFTTT)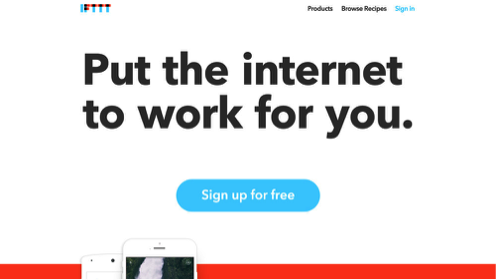 If This, Then That, also more famously known as IFTTT, is a tool that helps you to connect your personal and business apps together in order to make your workflow smoother. Once I connect the apps of my choice, from social media platforms to storage drive folders, I can command IFTTT to take action for me—setting up filters that will work 24 hours a day, 7 days a week.
For instance, if a short-term email is received and it has a photo attached to it, I will then automatically store it in my Google Drive folder, publish it on my Instagram account, Facebook account, and Twitter account, and like and share the posts, too. IFTTT will do all of that for me.
I can have the software send a quick email to my family, telling them I shared the photo. Perhaps I decide to add a filter on IFTTT that asks it to only email the photo if it was sent to me by a non-family member. Sophisticated, huh? This is just one example of how a very complex series of tasks can be completely automated through easily accessible, Internet-based software.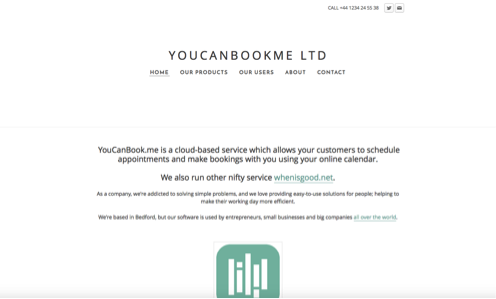 YouCanBook.me is booking software that acts as a virtual assistant. It's completely automated when it comes to booking appointments for you. Within the site, you create a personalized scheduling page that your clients can access from anywhere, on any device. The bookings go straight into your online calendar, with no assistant necessary.
Smarpshare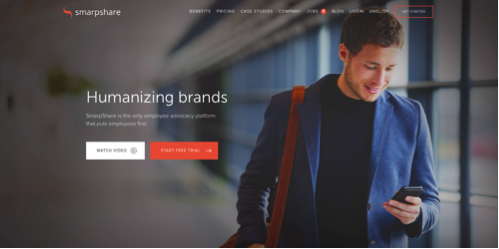 Smarpshare empowers companies to share content to their external social media sites such as LinkedIn, Facebook, and Twitter with a click of a button. The ability to stay present across social media platforms is so important. It takes me 2-3 minutes to share articles on three different platforms. On LinkedIn, I share employer-relevant articles. On Twitter, I share marketing-relevant articles and on Facebook, I share more fun articles. It has really suited me well with just three simple clicks. So, instead of making 5 clicks, it takes one click to share one article on one platform.
InfusionSoft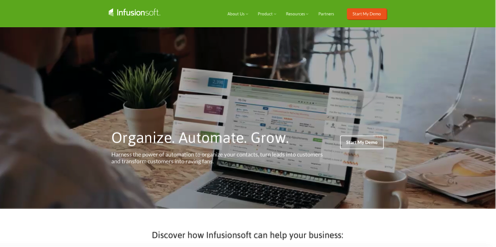 This is a great tool for creating marketing campaigns, funnels and email marketing. You are able to automate important tasks like the follow-up, contact management, billing and payment. So, if you're looking to get organized, grow sales, and automate some of the things that take the most time, InfusionSoft may be right for you.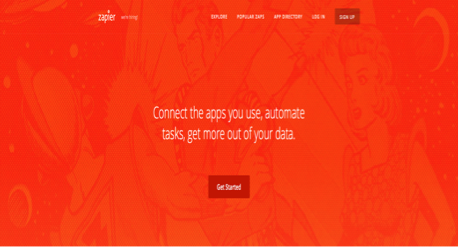 Zapier enables you to automate tasks between other online services such as Salesforce, WordPress, MailChimp, Google Sheets, Trello, Google Calendar, Evernote, Mailchimp, Dropbox, and over 500 more apps. An example is when people sign up for your newsletter and subscribe to your MailChimp Database, Zapier sends that to a Google Spreadsheet and the spreadsheet can be used to do an online dashboard in Geckoboard. You can see a graph on how many subscribers you have. Zapier makes sure the MailChimp data goes to Geckoboard to make sure it's automatically updated.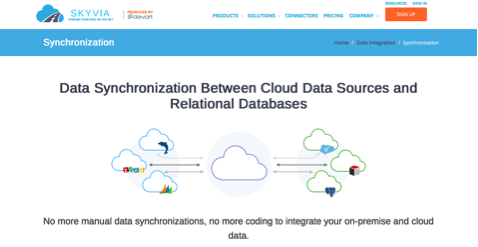 Skyvia makes it easy to integrate data from various sources and applications with ease. For example, you are able to load data between Zoho CRM and other data sources, and configure automatic data synchronization. I like the powerful scheduling settings that allows me to create almost any kind of schedule I need with ease.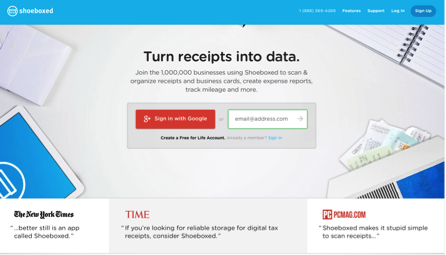 Shoeboxed gives you envelops and you can put any kind of receipt, bill or business card in the envelop. I like to put the envelop in the mail and Shoeboxed will scan everything and make it available in an online cloud folder. You can also use Shoeboxed App for taking receipt images from anywhere and then, you are able to use your GPS for easy, accurate mileage tracking into a cloud folder. Once you have a cloud folder, you can integrate it with Itduzzit which, I'll talk about next.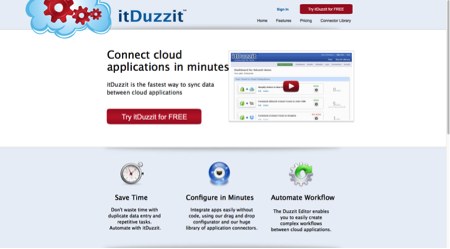 Itduzzit connects cloud applications in minutes. I like to use Itduzzit to move receipts from the Shoebox cloud storage into my Quickbooks accounting software. No programming involved and I'm able to get quick results. You can also get creative and perform calculations on set data. For example, you can keep track of how many times you take the bus, Itduzzit will track your carbon emission savings and automatically post it to Facebook.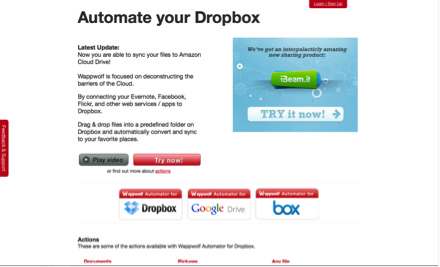 Wappwolf connects you to Evernote, Facebook, Flickr, and other web services/apps to Dropbox. Wappwolf can be paired well with IFTTT. I love that Wappwolf completes tasks automatically for you when you drop a file into your dropbox. For example, you can watch Dropbox and convert files to Kindle format and then send them to your Kindle. Also, it processes images, text, pdfs, and other files in your Dropbox any way you would like.
CloudHQ is great for real-time synchronization and backing up files, emails, notes, and more. I love that it syncs the team's personal drive to the business Dropbox, and vice versa. The data is secure and easy to find for all members. So, if the organization has lots of ineffectual usage of Dropbox, the team can collect non-critical information in Dropbox but, via CloudHQ and then set it up to where the data automatically ends up in the central location.
The World is Automated
Indeed, even content creation is automated now – replacing a process that used to be 100 percent creative. HubSpot's content creation software is a testament to this change. Don't just think of it in terms of blogs or articles—think of it on the micro level, where every notification and every trigger, is a piece of content that needs to be distributed. Most businesses need automation to be able to carry that burden.
Today's Internet user wants relevance as well—it's hard to cut out the noise in an expansive digital world. So, relevance is being automated—when you think of filters and rules in your PPC campaigns and social media postings, that is the automation of relevance, at its core.
Ultimately, today's automation will enable new scenarios, as we continue to strive to be more productive. Check out, for example, the tool in Outlook where you can split your inbox between emails that are Focused, and Other.
These tools and examples truly show us that as humans, we can embrace automation tools to free us up so we can work and deliver efficiently. In a world where we, and our companies, cannot move as fast as our technological friends can, we are best served by partnering with intelligent software to make our lives easier, and to achieve our goals.