With every passing day, content becomes more and more critical to informing prospects and customers about products and services, in order to drive sales growth. But in a hyper-intense world where many people read less and less each day and prefer to get news and information from pictures with cutlines and one-minute or shorter videos, how can small and mid sized companies afford to engage the talents needed to package content in an optimal way for a visually-oriented target audience?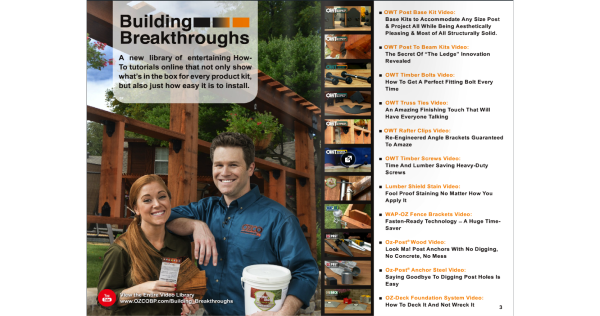 Affordably producing informative videos, tutorials and product profiles was precisely the challenge facing a family-owned, twenty-five-year-old B2B company with a new, start-up division serving the home building/home renovation industry.
With QR codes, those funny photo link images you see on packages and magazine ads that take your smart phone right to a web site, cleverly printed on the company's product packaging for innovative, ornamental hardware products sold at Home Depot, Lowe's and Menard's, contractors and do-it-yourselfer consumers could use their smart phones to be instantly linked to vital product and installation information. The rub is that few people wanted to be taken to a site where they had to wade through and read a sea of gray, lengthy prose. So, a web site populated with video tutorials was needed instead. Assuming the cost to professionally produce these would be prohibitive, led the company to produce their own home-made videos posted on YouTube. Unfortunately the quality of the videos was less than desirable and potentially unintentionally conveyed to the site's visitors and the retailers distributing these products, that the company behind them was raw and entrepreneurial, and potentially not capable of handling the growing pains of being distributed broadly into a nationwide chain of thousands of stores.
The solution was a series of 11 well-produced and highly entertaining one-to two-minute-long tutorials that featured a contractor couple who were building pergolas, decks, fences and gazebos together. All 11 were filmed in one-day at one well-prepped location. The total cost, which should have exceeded $75,000, was only a third of that sum. To sample the quality achieved for yourself, just click here.
There were two basic keys to success.
First was having the right kind of nimble, fast-moving and yet highly creative film production company that specialized in what used to be called "industrial videos" but today can apply to all kinds of content for B2B or B2C audiences. The company also included copywriting talents to help with the scripting and dialogue.
The second was the oversight and pre-planning of the company's Chief Outsider marketing consultant who had enjoyed a long career with lots of broadcast production experience that taught him every "short-cut and cost-saving without quality-sacrificing" trick in the book.
The point is that affordable, highly compelling product content videos are far more accessible than you may think. And for companies that migrate from copy-heavy web sites to ones with videos and easy-to-absorb graphics, the rewards in terms of lead generation and incremental sales can be game-changing.