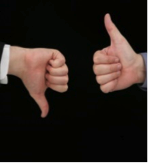 As part of a recent consulting assignment, I spoke with some of my client's key customers. As is typical in many small and mid-sized B2B companies, these customers were periodically contacted by their salesperson for account follow up and maintenance. However, during my conversations it turned out that a few customers were harboring significant frustrations even though the vendor had believed all was well. My client was actually in danger of losing business from these large accounts.
The question is why hadn't this frustration come up in conversations with the sales team?
Many small and mid-sized companies view their salesperson as the front line to customer feedback. However, when your salesperson checks in with the customer, it's very likely that the customer is not going to be brutally honest. It's in our human nature to avoid conflict, and most people don't like giving people they know a bad grade—though granted, we can all think of exceptions. There's a natural bias to leniency that plagues customer feedback, especially as customers may also feel that negative feedback will result in a stressful relationship, which may make things even worse.
So what should small and medium-sized B2B companies do to get insightful customer feedback? The solution is to segment and outsource.
It's an old business adage that 20 percent of your customers produce 80 percent of your sales. Therefore, identify your top customers, and once a year have an experienced consultant who understands your business have an open-ended conversation with them about their experiences over the year. This is not a survey, there are no quantifiable responses, and I wouldn't even call it feedback.
Invite the rest of the customers to participate in a brief yearly online or phone survey. Make sure to (1) include plenty of open-ended questions where the customer can convey complex messages, (2) offer them the option of anonymity, and (3) allow them to request a call back from a company executive.
A Customer Advisory Board is an additional option to get timely feedback while strengthening your relationship with key customers. Invite some of your most important customers who are also constructively vocal, to join the board. Meet quarterly or once a semester, sometimes online, sometimes in person. This should be a two-way conversation, where you share upcoming company developments, and customers provide valuable feedback to key issues you are considering—feedback which you then mustn't ignore.Finally, create an online community/forum where customers can freely exchange ideas with each other. By listening in, you can learn what issues your customers are having and how they discuss their experience with your company.