Guest Blog by: Lee Frederiksen
Prospects' buying behaviors are continually evolving. Staying on top of current trends can help your professional services firm position itself in the right place at the right time.
A recent study by the Hinge Research Institute has identified more about how professional services buyers are behaving—from how they're finding and evaluating your firm to how they're making their purchasing decisions. The study surveyed over 1,000 buyers and tracked some interesting trends that could influence your firm's marketing choices.
To give you the inside scoop, we've pulled a few of the most significant findings to create a three step plan for your firm to increase your visibility and get found by more prospects.
Step One: Invest in a Strong Website
80% of the buyers surveyed reported checking out a firm's website before making a purchasing decision. As the world continues to become more web-centric, we can only expect this number to go up. If your firm isn't investing in having a high functioning, detailed and easily navigable website, you're quickly falling behind.
Think of your website as your firm's first impression. Since such a high percentage of buyers are turning to websites to check out professional service firms, your website needs to act as a welcoming handshake to prospects.
Step Two: Be Visible Across Multiple Channels
However, simply having a website isn't all buyers are looking for. The buyers surveyed used an average of 3.2 methods to check out firms. With looking at a firm's website coming in solidly as the top method, utilizing search engines, speaking with friends and colleagues, and social media weren't far behind.
Figure 1. How Buyers "Check Out" Potential Professional Services Providers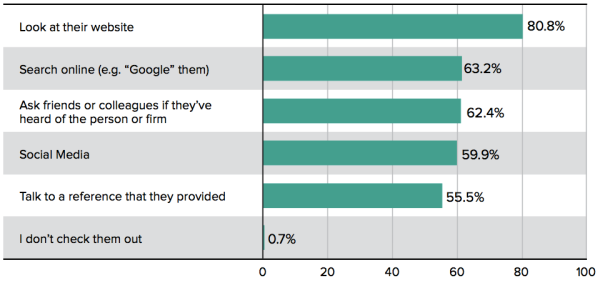 This suggests that professional service firms should make the effort to be visible across multiple channels. Not only should you invest in a strong website, but also consider taking steps to increase your SEO and social media presence. The more channels prospective buyers can find your firm on, the more information they'll be able to acquire to inform their purchasing decision.
Step Three: Create Content
63% of buyers reported doing a Google search of a firm's name to see what came up. To help control the flow of information about your firm, maximize your SEO with content creation. Not only will you give your buyers more information to make their decision, you'll also establish your firm's role as an authority in your field.
Since Googling was the second most popular method buyers reported using to check out your firm, you want to make sure they like what they find. By producing informative and engaging content, you can increase the visibility of your firm and build your "Google-ability."
The Bottom Line
If buyers are changing the way they're finding and evaluating your firm, then your firm needs to change the way you're marketing. While the old methods of personal recommendations and word-of-mouth are still relevant and important, they're quickly taking a back seat in comparison to all the information the web has to offer. Learning how buyers are evaluating your firm helps you know how to be the answer to their questions before they even have a chance to ask.
About the Author:
Lee W. Frederiksen, Ph.D., is Managing Partner at Hinge, a marketing firm that specializes in branding and marketing for professional services. Hinge is a leader in rebranding firms to help them grow faster and maximize value. Lee can be reached at LFrederiksen@hingemarketing.com or 703-391-8870.