To help explore whether your Gross Margin target is stuck, we'll review the concept of industry averages, the typical improvements undertaken in functional areas, and briefly outline a path to consider to realize additional step-change improvements.
The Comfort Zone
Businesses can fall into the trap of operating in the comfort zone of accepting historical or industry average Gross Margins (GM) for the products and services they provide. Entry into the zone usually begins with comparison of a company's GM to industry averages that can fall within a few percentage points of each other or span double-digit percentage point differences.
An example, the sealants industry where GM's range 25-41%, as reported by ChemQuest. While Ben McClure of Bay of Thermi Ltd. Research cites full-service airlines operate in the 5% arena while others such as Southwest and Jet Blue are at 29%.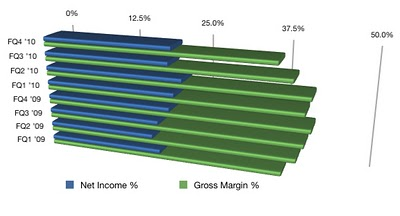 As you would expect, most companies operate within their respective industry average GM and undertake initiatives and programs to reach the higher boundaries.
Improving the Functional Areas
Identification and quantification of GM improvement goals are part of sound management practice. And there are a number of firms that have made established best practices. At the highest level, the following tactics are commonly deployed to improve GM from the cost and pricing sides of the equation. The objective is twofold:
Reduce cost without compromising quality of the deliverables and customer satisfaction
Increase price without losing significant market share and diminishing perceived value
A variety of methods, techniques, and approaches can be undertaken to improve GM. They encompass all functional areas of the business. Examples are initiatives focused on process improvement, organization design analysis, and supply and value chain analysis. However, focus on cost and pricing alone is a limiting factor and can place a cap on what is possible. Reaching the top of the industry average may not represent ultimate success! This limits the real profit potential for your business.
Realizing Step Change Improvements
Regardless of where a business falls in the industry GM range, a parallel initiative may be undertaken for the purpose of making a step change improvement aimed at increased margin and profit. To initiate this effort, CEOs should step back and have a look at their business through a wide angle lens. This means they should have an eye to differentiating your overall business as well as the product/ service offering they bring to market. In "Differentiate or Die", author Jack Trout makes the point that it's not what you or your product do, it's about what you do differently. To start, take into consideration the following key factors:
Core competencies and resources that can be leveraged
Market size, growth rate and structure for both existing and new markets
Competitors' strengths and weaknesses
The results could lead to identification of the following types of opportunities that may dramatically improve overall GM:
New products or line extensions for existing markets
New markets for existing products
Expanded distribution
At this point, consider two key questions. "What does it take to get to the next level?" and "How can we get there?"
As a starting point, the two previous lists can be evaluated in terms of internal capabilities and strengths versus needs, plus opportunities and threats in the market. One means to accomplish this work centers on embracing key elements of "Big M" or Strategic Marketing as described here. Such thinking will help to acquire and assess information from inside and outside the business. These types of market-based initiatives require time, effort and resources. In that respect, they are not unlike the programs and projects aimed at improving the functional areas. The value of the benefits can be weighed against cost and thereby justify any incremental expense. But that's another blog topic.
- Rich Jakovac, Partner