What's with all the hype about "Artisan Bagels" by Dunkin' Donuts? Does anyone even know what the word "Artisan" means? In my mind, the word conjures up the idea of goods hand-crafted in small batches. Do the makers of Dunkin' Donuts want us to think its new line of bagels are better tasting because they are made with more passion and care? You bet they do!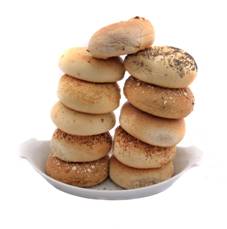 So why did Dunkin' Donuts venture here and what can small to mid-sized brands and businesses learn from this?
It's all about Marketing and figuring out how to differentiate your brand from the competition.

A few years ago, I used a similar approach while managing the Marcal line of paper products. Marcal was known as the "Value brand" in the category. At first glance you might think this is a good position to occupy, but it's not. Grocery Chains typically promote their own Private Label line as the "Value" offering in the store. So if your brand is considered "Value" you better change quick because you are competing against your customer and it's a matter of time before your brand will be ousted from the shelf. What Dunkin Donuts did very cleverly was to leverage the idea (Artisan) to help distinguish their brand of bagels from the rest of the crowd. Because branding is about "differentness" not "sameness".
Fortunately in this case, Marcal had a long heritage of being made from recycled paper, so the brand was repositioned as Marcal Small Steps, the first line of 100% recycled paper products that was not only a good value, but was also good for the environment.
What does this mean in business or marketing terms?
To stay competitive, every product needs to own a point of difference in the consumer's mind (versus its competition). If your brand or company is considered a me-too, then the only way to compete is on price, which is a very slippery slope to be on.
So what should you do:
First, conduct a Competitive Assessment – Determine what word(s) your competition owns. One of the easiest ways to do this is to ask consumers who buy your category, what they think the brands stand for. What you will find is the bigger brands typically own the most important benefits that consumer's value in the category. In paper, Charmin stands for "Softness", Bounty for "Absorbency" and Scott "long lasting".
Next determine what word your brand owns and how does this stack up to the competition. Owning the same word is difficult, if not impossible, unless you own a slightly different version of it and that version has a meaningful benefit to the consumer. In paper, Quilted Northern and Charmin both look to own softness but Quilted Northern promotes their paper as "quilted softness" to differentiate themselves from Charmin. For Marcal Small Steps we chose to own "good for the environment", because the paper was made by not cutting down new trees.
Once identifying the word look to own that word in all aspects of the marketing mix – your product name, your packaging graphics, any advertising that supports the brand in both traditional and digital mediums, and your promotions. Marcal Small Steps' focused approach on its new positioning enabled the brand to regain its footing in many of the Grocery Retailers that had discontinued the "Value" version the year earlier.
No matter what industry or business you are in, you need to think about the strength of your brand's positioning. Dunkin' Donuts wanted to own a larger share of the bagel business. We will see if its "Artisan Bagels" do the trick. For me, I'm a purist. Dunkin' Donuts means really great tasting donuts. Please pass me a Glazed.
What are your reactions? Do you think "Artisan Bagels" will catch on?