Passion and vision are formidable energy sources for a company's success. Fully engaging in our passion – something we truly love – not only fuels our desire to excel, but actually helps define our busi
ness, our brand and our long-term mission. Articulating our long-term vision (3 years, 5 years, 10 years, etc.) – one that is grounded in our passions – provides the details of a future that further drive organizational alignment and understanding. Combined, passion and vision shape business performance. Businesses built on this passion and vision – a "calling" – make a significant difference for everyone they touch.
Cornerstones of Success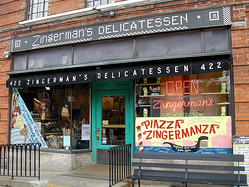 Zingerman's Deli of Ann Arbor, Michigan, is a company that fully embraces passion and vision as cornerstones of its success. Co-founders Ari Weinzweig and Paul Saginaw articulated their "calling" in their Vision 2009, and summarized the key components in their mission statement and guiding principles.
Bo Burlingham captured Weinzwieg and Saginaw's specific journey in his 2003 article, The Coolest Small Company in America. Following their instincts, Weinzweig and Saginaw focused on growing the Zingerman's Community of Businesses (ZCoB) within the Ann Arbor community, instead of following the more expected path of expanding Zingerman's business geographically. An updated summary of their thinking and strategy is codified in Zingerman's 2020 Vision. The result is a unique, highly respected multi-million dollar business committed to quality, service, people and community.
At Every Level
Weinzwieg and Saginaw are committed to the power of visioning as a "best practice" for business and use it at every level of ZCoB – from conceptualizing the next business to creating the next new recipe for baking bread at the bakehouse. Ari's article Creating a Company Vision spells out why visioning is beneficial to a business and provides a practical example of how visioning works, and a step-by-step approach to creating your own vision.
Small Giants
If you are interested in reading about other like-minded companies, I highly recommend Small Giants: Companies That Choose to Be Great Instead of Big, by Bo Burlingham. For those interested in a more hands-on experience, I encourage you to visit Ann Arbor and experience Zingerman's vision and passion first-hand. It is well worth the trip.