I have to admit I'm a gadget guy. I absolutely love my HTC One X which, as my wife is quick to point out, is rarely out of my hand. I'm constantly downloading new apps to try and use and I know I drive her crazy showing off my coolest new acquisition.
I'm very anxious to get my hands on the newest Android update known as Jelly Bean, as soon as HTC and AT&T get around to making it available for my phone. One new feature included in this update is Google Now, Google's answer to Siri and from what I can tell, one hell of a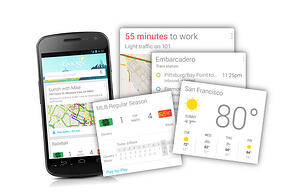 personal assistant. Beyond the voice-activated searching, emailing and appointment setting so prominent in Apple's commercials, Google has added proactive services based on how you use your phone. For example, as explained by Steve Kovach in Business Insider, it can send you a notification letting you know it's time to leave for an appointment based on where you are, where you're going and the traffic conditions. It can automatically send you updates on your favorite sports teams because it knows who they are (or assumes it does), and it can update you on flight delays and gate information because it already knows your flight number.
For some, that's where the creepiness factor comes in. I get that, but it's not like your phone (and Google and your carrier) don't have all that information already. In fact, many of the apps available already do some of the things that Google Now purports to do.
Good or Evil?
I guess time will tell whether the use of all this information turns out to be for good or evil but either way, I think it's a brilliant and necessary business strategy for Google. Here's why.
A Strategic Imperative
Apple introduced us to the world of apps and Google, Microsoft, RIM and the army of developers who populate their ecosystems continue to feed our hunger for them. But as these separate apps continue to do all kinds of things to make our lives easier, they are more likely to impinge on Google's core business. For example, if I can get flight updates through Worldmate, or updates on my beloved Superbowl Champion NY Giants through my Giants News app, why would I need to go through Google for that same information? But, if Google can provide a better, more integrated and more proactive presentation of that information, I might not need those other apps anymore.
What can small and midsized businesses learn from this?
Small and midsized businesses may not have the resources of Google, but there are things they can do to protect and expand their existing place in the market.
Be aware of new competitors and technologies which might dis-intermediate you – Make sure you have a way to see what's new in the markets you serve so you can spot troubl

es early. Don't just focus on direct competitors who do the same things you do or add incremental improvements, but look for disruptors who might make you irrelevant or obsolete. By zooming out and then zooming in as

Jim Collins and Morten Hansen describe in their book

"Great by Choice", you'll be better prepared to address any potential disruptions to your business.

Better yet, become a disruptor yourself – Look for ways to combine services/capabilities to provide something which creates a whole new experience for customers and users and gives you an opportunity to cut others out of the market.

Be prepared to eat your own young

– It can be very difficult to introduce a new product or service which can impact your existing business. While maintaining current revenue streams is important, planning to cannibalize your own products in a way which enables you to maintain and potentially expand your customer base is a much better alternative than having someone else do it.
Stay true to what makes you special – Whether it's a simplified product, specialized expertise or a one-of-a-kind customer experience, continuing to focus on the things that make you unique will help you achieve a Positive Return on Luck.
So whether you think Google's new service is cool or creepy (or maybe a bit of both), it can serve as a valuable lesson as an example of a company acting now to protect its position from future threats.
What are you doing to protect yours?
Tell us what you think of Google Now. Do you find it cool or creepy?