I attended the CMO Club Innovation Summit in NYC a few months ago; an outstanding event, filled with exceptional marketing minds, excellent learning and some interesting special guests (not to mention a killer Rock N Roll Fantasy Camp band). Being a NY Giants fan I was excited that one of those guests was Michael Strahan, the sure-to-be Hall of Famer and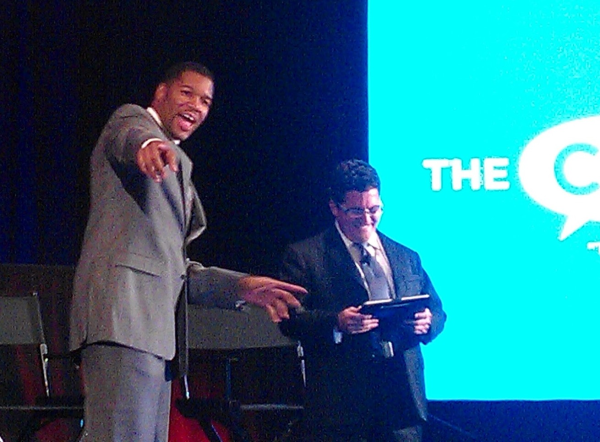 former great Giants' defensive end.
If you've ever seen Strahan on FOX NFL Sunday or any of his other numerous TV appearances, you know that he is a smart, funny and engaging guy with an infectious gap-toothed smile. I was lucky enough to be standing near the refreshments when Strahan came out of the main room and had a few minutes to chat with him about the Giants before he was swamped with requests for pictures.
Our chat got me thinking about what small and midsized businesses can learn from the Giants.
What Small And Midsized Businesses Can Learn From The Giants
The Giants Way – Unlike some teams, the Giants don't do much trading to change their position in the draft. Nor do they make a lot of splashy trades. Instead, they have an efficient system in place to evaluate talent and draft the best athletes, supplemented by the occasional free agent. This gives them the depth of talent they need when the inevitable injuries happen and someone unexpected has to step in for a starter.
Business Lesson – Develop a consistent approach to bring in the best talent you can for your business. Depending on your needs that may be full-time hires in key positions, contractors or fractional executives who can bring specialized skills to fill a gap or help get the company to the next level. Having the right mix of talent can help ensure you have a "positive return on luck" as noted by Jim Collins and Morten Hansen talk about in their book "Great by Choice."
The Giants Way – A common complaint about the Giants is that they are boring and predictable. They do the same things and don't vary their approach to the game. That's precisely what makes them so effective. They develop a plan and stick with it throughout the season. That doesn't mean they don't adjust depending on the opponent, the circumstances of the game or their injury situation, but they don't throw out one strategy to focus on another just because it's not working perfectly.
Business Lesson – Develop your own SMaC plan (Specific, Methodical and Consistent). Whether it's a product strategy, marketing plan or sales approach, once you've developed it, have the discipline to stick with what you have put together. You should be prepared to make adjustments as circumstances change, but you should not change the core philosophy or approach. Doing so only causes confusion with your employees and customers. Of course, knowing how and when to adjust requires you have a process in place to monitor key metrics and spot the things that need adjustment...much as the Giants do each week as they study game film.
The Giants Way– From "All In" to "Finish," the Giants used slogans the past few years to rally their team and generate support from their fans. While the slogans were catchy, they were just empty words until they were embraced by everyone on the team. Only then were they able to work together to overcome a rough patch during the season and make it to the Super Bowl.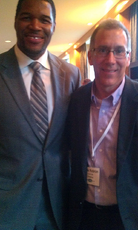 Business Lesson – Have a strong consistent message your employees and customers can understand and support. I'm not suggesting you go out and develop a fancy tag line, but think about the messages you and your executives are sending to your staff, and the messages your employees are sending to your customers. Are they consistent? Do they support your plan and business goals? Do they help you achieve success? If not, you're hurting yourself and your chances to succeed on your 20 mile march to sustained growth.
The Giants are not perfect. Like any organization, they make mistakes. But they are right more than they are wrong, and they've hit upon a winning formula that has taken them to two Superbowl championships in the last four years.
What's your winning formula?