I've become a big fan of practical and powerful business books over the past 10 years. Perhaps...no definitely...my favorite author in this genre is Patrick Lencioni. I met with Pat, and a couple of his executive team, very briefly last week. Guess what? He's just as charming and bright and engaging as you'd expect. While I was able to gain some insights related to managing a consulting practice from Amy, who runs the show at his consultancy The Table Group, I was also keenly aware of the tremendous intellect and experience that drives their firm which is clearly evident in the mere presence of Pat Lencioni.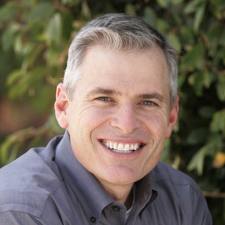 Feeling Naked
Pat is one of those people who makes you feel you're important. Imagine. In the first 5 seconds of meeting him, he was able to make me believe I mattered in his day. What a fabulous lesson in business leadership. Making it your job to make others, even casual acquaintances, believe they have value and bring something to the table. He and his team wanted to know all about Chief Outsiders, how we were growing, who we were serving, what we were learning.
If you're familiar with Lencioni's books — including "The Five Disfunctions of a Team" "Death by Meeting" and my two favorites, his recent "The Advantage" and previously "Getting Naked" — you know that Pat is a huge believer in what seems non-intuitive. Specifically, he makes a strong case for executive leadership that is based on vulnerability and humility. Perhaps it's not such a strange thing afterall, since Jim Collins (my #2 fav) has also shown empirically that humility is the core trait for "Level 5" leadership that helps companies move from Good to Great. This is a foundation for several of Pat's books yet is a point of guidance that can easily be misinterpreted.
Leading Naked
Sounds ridiculous. How do you lead your organization being completely vulnerable and with total humility? Lencioni makes it clear that humilty doesn't mean walking around with your hands in your pockets, saying you don't know what to do or how you're going to solve the tough problems. That would demonstrate incompetency. And perhaps that's our fear as leaders. But vulnerable leadership means sharing your concerns, admitting when you're wrong, but always moving beyond the challenges to solutions and answers.
Stark Naked
In "The Advantage" Lencioni emphasizes the notion of clarity to an extreme, where it shows up 3 times in his 4 point model. Really.
Build a Cohesive Leadership Team
Create Clarity
Over-Communicate Clarity
Reinforce Clarity
How does clarity relate to nakedness? Simple. Make sure what you're working to achieve is clear to everyone. Then tell them how you're going to do it. Then make sure everything you're doing clearly relates to these objectives and goals and remind people along the way.
Naked Truth
While it's not astonishing to think that your organization's health is based on trust, it's somewhat surprising to recognize that trust is only possible when conflict is part of your company culture. Not conflict that drives divisiveness, but conflict that ensures commitment and accountability.
"Getting Naked" is a book written specifically for firms like Chief Outsiders. While Pat's other books were business fables reinforced with models and methodologies to drive organizational health, "Getting Naked" includes a fable about consulting. Where being vulnerable and providing naked service means being fearless with regards to the following: 1) being embarrassed, 2) feeling inferior, or 3) losing the business. Yet while written for those of us whose practice is to serve company executives as consultants (in our case, fractional CMOs), Lencioni's message is applicable to any in-house employee or executive put in a position of trusted advisor to peers and management.
So What?
Our organizations' growth is tied directly and critically to our organizations' health. The cornerstone of our health is vulnerability in our leadership. By caring enough to be deliberate and clear in articulating and managing to our vision, strategies and plans, we let people know that they matter. It's almost silly to face the blatant yet hidden reality that people are our organizations. How we collectively communicate, rally, debate, resolve, care for and support one another far out weighs our combined intelligence, ingenuity and even innovation. A naked, healthy organization can make all the difference in your business, or in our consultancy. I'm a believer in Pat's articulated wisdom. And that's the naked truth.