Building a Connected Community
I recently read an HBR article, "Social Strategies That Work" by Misiek Piskorski. In it, he shares the following: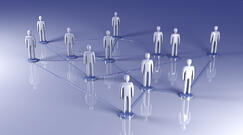 "Successful social strategies (1) reduce costs or increase customers' willingness to pay, (2) by helping people establish or strengthen relationships (3) if they do free work on a company's behalf."
Think about this for a moment. Nowadays, you hear so much about your company being on Facebook, Twitter, Pinterest and a plethora of other sites. Overlooked sometimes is the fact that you must not only be there, but be sharing information that makes people want to do something with it: act on it, share it with friends, respond, increase loyalty etc., etc. And for it to be successful for you, this sharing must result in increased profit.
Profit is Essential
Profit comes from either decreasing expense, increasing revenue or a combination of the two. So, don't start a social or digital strategy without thinking about profit. At the beginning, you may not know exactly where it will be coming from, but you do need to be cognizant of the objective.
Let's Get to the Case Study.
I recently read in Mashable (great information) about Outta the Park BBQ sauce. They wanted to grow their customer base and more importantly, increase their engagement. They contracted with Dobango to conduct a Pinterest campaign. The campaign was simple. People would post on the company's Pinterest page pictures of food they liked to serve at picnics and social events. They got family and friends to vote and a winner was chosen. People had fun, "Outta the Park's" Pinterest following increase 150%, and its Facebook page took a 40% jump. The project also caught the attention of several food bloggers who then contacted the brand." (Emily Price)
Remember, Profits are Needed
How does this translate into an effective strategy? What type of content do you need to provide so that your customers will want to share with their friends and colleagues? Is a contest appropriate for your business? And how can this sharing increase revenue or decrease costs? You have to have an integrated strategy for what might work with your customers. Are you in a B2C space? Or B2B? Are your customers small or large companies? What do you sell? Before deciding on your tactics, these questions need to be addressed. Then you need to experiment. A campaign on Pinterest or Facebook doesn't cost anything close to what a campaign in traditional media might cost. So you can afford some experiments, even those that fail. But they must fit with your overall business goals.
Please share your comments below: