How many companies can say this about one of their cloud services providers? Well, we LOVE our HubSpot. Wait...what's a HubSpot? It's the most complete, powerful and easy-to-use content management (CMS) and marketing automation platform on the planet. As a firm full of executive marketers, we're pretty demanding. And pretty pleased with how HubSpot performs for us, being the cornerstone for our nationwide business development.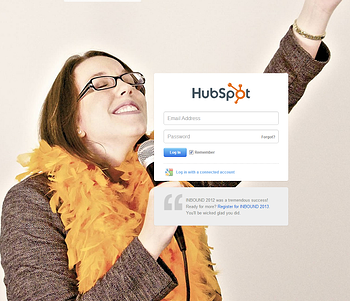 Here are the 8 top reasons why we love it, and them, so much:
HubSpot freaking works.
Imagine that? A SaaS solution that does what it says?
HubSpot is stupid simple. (even a bunch of CMOs can use it)
Okay. So the average age of our user base (our part-time marketing executives that serve mid-sized companies with their growth needs) is about 50 years old. Yikes! you say. And we're screamingly digitally savvy. But still, it's wonderful to have the blog platform (the interface most of our CMOs spend time with) be so stupid simple. And okay, to be fully transparent, we also use Dickens (our college intern) to help with our posts, but that's mostly about saving executive time.
HubSpot is wicked powerful.
The extensiveness of the HubSpot platform is impressive. It's a solid content management system, so copy and graphic changes are a snap. But as an inbound marketing, email marketing (really cool new capabilities) and marketing automation platform, it's downright powerful. The power is in the combination and integration of all the pieces and the tracking of touches of the prospects who engage.
HubSpot drives results.
Our website is central to our marketing. Through HubSpot dashboards and contact tracking, we're able to see how the combination of activities (e.g., visit from LinkedIn ad, download of CEO Study, reading Blog post, attending webinar) work together to nurture opportunities and closes.
HubSpot keeps us accountable.
Being a firm full of marketing executives, it's not surprising that everyone at Chief Outsiders expects visibility into our marketing effectiveness. HubSpot analytics keep us informed and accountable to our whole Tribe of CMOs. We recently were able to show the direct relationship between blog activity and visits to key pages in our website and specific interests in our active CMOs. With a plug-in from the HubSpot marketplace, we're also able to tally the cost of leads from our Google AdWords initiatives by campaign. And the list goes on.
HubSpot continuously improves its product.
We've grown up with HubSpot. Starting 3 years ago with their entry-level offering, we've continually upgraded and now we're full Enterprise-level users. HubSpot started with a fairly tight feature set that majored on assuring our site was SEO friendly and that we were publishing content to facilitate inbound marketing. Most recently, HubSpot has added personalization tools that allow communications and nurturing to be highly customized based on prior interactions. Ultimately, we're able to better serve our visitors and prospects with a higher level of relevance. We have a long way to go to fully leverage the capabilities, and perhaps that's what makes it so fun. The sky is the limit.
HubSpot is educating the entire industry.
The team at HubSpot are content maniacs. They generate more blog, video and event content that anyone I know in any industry, especially for a company their size. They're on a mission to instruct anyone who's interest in how to become a better online marketer. Their annual INBOUND conference is stellar. Barbara Fowler and MJ Jolda, two of our CMOs, attended this year and returned even more passionate about the company and the platform.

HubSpot people are awesome.
HubSpot is the Southwest Airlines of Marketing SaaS. They have fun, they share their fun, they look like fun (see photo above — how's that for a log-in screen?). MJ and Barbara can't say enough about the people they met at INBOUND. Founder Brian Halligan was nice enough to call into our national CMO meeting to answer questions around his Inbound Marketing book. Then recently, we goofed on an email campaign and received notice that we'd been thrown into "spam jail." But within minutes we got positive guidance, encouragement and support for correcting our mistake and moved forward.
So, why the big commercial for HubSpot? Well, they're remarkable. The product and company. They're having a substantial impact on our business. And we're enjoying the process of growing more capable and effective with them. We just had to share it.