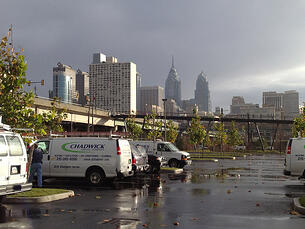 Mark Chadwick, CEO of Chadwick Services is our guest blogger.
Chadwick Service is a Philadelphia based commercial heating and air conditioning company started in 1977. I have been president and sole owner since 2004 and it has grown, but not enough. My vision is for a much bigger operation, focused on servicing hospitals, universities and other large commercial buildings. So I know where I want to go, but I have had trouble putting my vision into action. Let me review what we have tried so far.
The Journey
Back in 2006, while in the midst of rebuilding our sales force, we decided to invest some resources towards creating a website, developing brochures, and developing our new company name. Back then we called this marketing, but in reality it was no more than creating an identity and advertising it to the marketplace. Outside sales was still the main driver to increasing top line revenue and finding new customers. Marketing was nothing more than advertising in case a new opportunity was looking our way. And our advertising consisted of putting our name into local booklets and sponsorship opportunities.
Next Steps
Over the next few years, especially since the financial crisis hit our industry in 2009, our focus was to grow our service base. In our industry, service means that we make sure your building equipment is operating at peak capacity and that the people utilizing the building remain comfortable-not too hot, not too cold. In pushing for those results, the sales team suggested improvements to the department that we whole-heartedly agreed with and undertook. We provided sales training, a customer relations database, dedicated administrative support, and full time sales management.
We engaged everyone in Sandler sales training in order to have a consistent and common sales process. What I liked about Sandler is that it is a common-sense sales approach. But using it is key. I bought into the process, but others on the sales team did not. I found that after 2 years, classes were seldom attended, and commitment to the approach was haphazard. The frustrating part was that the sales team wanted the sales training but could not make the most of it. They were comfortable with their old approach and did not see the grind-it-out approach working with HVAC service contract sales.
An Important Lesson
If you are going to invest in training to improve results, make sure that you hold the team accountable. Most people are going to be uncomfortable with a new approach and resist it. You have to keep trying until the results can be easily seen by the team. Some people need to see it to believe it.
A CRM System
Next, we invested in a CRM software package to manage customer interactions and eliminate duplication of efforts. The CRM system is what you want to make of it. It can be a data dump of quotes and proposals, it can be a prospect tracker, it can even duplicate your Outlook. To make it work well however, it really needs an administrator. So, Lesson Number Two: have the back-of-house resources available to get your maximum benefit out of new processes.
We tried other things. We hired clerical staff to assist with the interactions with customers and free up time for our sales team to prospect, as well as organize and administer our CRM system. We hired and committed to a dedicated sales manager to help develop sales people, enforce the Sandler sales training, and improve the technical ability of the sales team.
Throughout all of these events, any increase in our service base was offset by those existing customers that either went out of business or eliminated their HVAC maintenance programs entirely. Of the new customers we did find, outside sales developed some new customers, but a surprising number of new opportunities were presenting themselves from prospects seeking us out. We even had one client who called us because he liked how clean our trucks looked. He felt that if we took care of our trucks, we would take care of him.
The silver lining was that our current marketing strategy was non-existent , so any effort expended here could possibly produce real positive results.
Deciding on Marketing
So finally, as what I saw as a final piece to improving our company's sales team, I reached out to Chief Outsiders in December of 2012, to discuss working with us to create a marketing program. As a company, we had very limited exposure to social networking, an antiquated website, and no message or brand in the marketplace. My perception of marketing at the time was that it was pure overhead, required a time commitment, and there was no way to accurately measure ROI. But considering that talk is cheap, I interviewed several different companies. What I found with Chief Outsiders, notably Barbara Fowler and Sue Cyliax, were individuals who spoke my language. They didn't show me fancy websites, brochures or brand names which their competitors chose to do when I interviewed them. Instead, they asked questions about my business, the sales cycle, and how we make money. They had one intent - how do they grow my customer base in order to justify my hiring of Chief Outsiders. Barbara and Sue both agreed with me that if a marketing program doesn't grow the service contract base, increase revenue and profits, then it is pure overhead and not worth doing. Instead of wowing me with fancy websites, they wowed me with professionalism.
In small companies such as mine, there are obstacles to creating a sales and marketing strategy. With a limited number of people and resources, the workload is already high for each person. Implementing a communication program will take time and energy. Next, everyone needs to have 'buy in' and take ownership of our brand message and recognize how customer interactions affect or reinforce that message. Finally, the sales team needs to change their habits. They will need to spend time consistently every day on communications to the marketplace.
Of the decisions made over the past 4 years to grow our revenue and service base, hiring Chief Outsiders has already been the most positive. They've made calls to numerous customers and non-customers alike to uncover buying patterns. They've identified decision makers in different markets. We dissected our sales for the past 3 years to uncover where our most productive growth segment has been. And, in only just 5 short weeks, Barbara and Sue have developed a market strategy, an initial brand message, and completed a market assessment. It is very refreshing when, as the owner of the company, I'm not the one pulling outside vendors across the finish line.
Revenue is King
But it is still about revenue and growth. Execution is key. Chadwick Service should be the premier HVAC company in Pennsylvania. So, we are committed to inbound marketing, with all of its requirements. And the first is, as a company we need to develop quality content that people want to read-and act upon. Given this challenge, I am writing this blog. We are going to be updating our website and adding the modern touches needed. However, in the interim, Chief Outsiders has posted my first. Here it is. What do you think?

Mark Chadwick is CEO of Chadwick Services in Bensalem, Pennsylvania. His firm installs and services HVAC systems. Contact him at MChadwick@chadwickservice.com.