Quantum Growth
Somehow, and with no help from my Zeta Psi fraternity brothers, I managed to graduate with an engineering degree from U.C. Berkeley. But there was a point when it wasn't clear I was going to make it. One reason was a challenging but fascinating course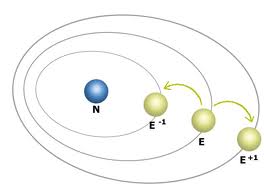 on Quantum Mechanics. The fact that an electron, with the right amount of energy, just "shows up" in a new orbit around a nucleus, completely boggled my mind. This indeed is the notion of a "quantum leap". Now years later in our business of helping CEOs realize their growth visions, I've witnessed a parallel phenomenon:
Taking Your Company to the Next Level Requires Enough Energy to Cause a State Change
Yesterday I was interviewing Larry Bloomquist, CEO of Mechanical Reps Incorporated (MRI) for a future blog article on his experience with "The 4 Disciplines of Execution". As a result of implementing the concepts of this book, which has required a significant commitment on the part of his leadership and their core teams, MRI is now producing at a whole new level. What was different?
While the details of Larry's experience is fodder for a future article, his fanatical adaptation of the book's guidelines for creating wildly important goals and managing progress with scorecards produced what I'll call a "quantum change" – meaning, they didn't just experience some incremental improvements, but a relatively dramatic step up in performance.
In our practice of helping mid-sized companies reach their next levels of growth, we're regularly seeking similar results. Incremental growth is not interesting. Not to the CEO, not to investors or to the board. In fact, a timid approach to growth – simply trying to make things a little bit better, a little more efficient – may be a formula for disaster. Like not challenging your muscles in a workout, not challenging your organization to push, to drive to achieve a new level could result in the loss of "muscle" and the ability even to perform at existing levels.
Getting from Here to There
One technique we use for developing clarity around a future destination is our "Here to There" exercise. This process allows our client companies to gain clarity around why staying "where they are" is not an option. And that getting to "the next level" is mandatory to realize their full potential as a business and achieve personal satisfaction and rewards. We draw an arrow between where we are, and where we want to be. This represents both the path and the plan for reaching the future destination. We make it a point to discuss the middle part of this journey of preparation and execution. The middle part is where failure occurs, because there is often not enough energy (or resource, or recommitment) to achieve the success-velocity to reach the goal. Anticipating this challenge is important. And it's analogous to making the quantum leap – that with enough energy, the company will find that their well-executed strategy places them into the next level of performance.
Marketing as a Discipline
As our research with The University of Texas has shown, companies can be clustered into two categories – either Operations-oriented or Market-oriented. The study intimated that the best combination for success is an Operations-oriented company that adopts Market-oriented skills. That way, companies not only have a market-relevant strategy, but the discipline to actually get things done. This makes tremendous sense, yet is difficult to achieve. It starts with recognizing that "marketing" is more than promotion or lead generation – it's about assuring your company's purpose and resulting business strategy is aligned with market needs and distinctive from your competition. But it's more. It's about executing a strategic marketing plan with precision and discipline to assure accountability. When companies go to market without all of their weight and confidence behind their initiatives, they're likely to fail. Viewing a market-facing function as a part of operations, giving Marketing a seat at the CEO's table, and insisting upon disciplined execution are core components that can assure companies execute with the energy needed to reach the next level.