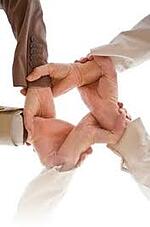 I had the opportunity to hear Boaz Rauchwerger's sales speech at David Norman's Vistage group in Charlotte not long ago. Boaz has spoken to over 1000 Vistage groups and is an engaging speaker. I left with a takeaway about the impact of interpersonal relationships and the interest we show in those around us that I wanted to share.
In my last BLOG I discussed the changes in big data, inbound marketing and connected customers and their impact on the sales process. A key takeaway from Sales Shift (Sales Shift, Frank Belzer, 2012) is "being treated as an individual has always been important to prospects, but now it is not just important, it is VITAL!" Much the same applies to leadership as it turns out - treating the employee team as individuals. Here are 7 Boazism's that resonated with me about leadership and motivation for employees:
A leader does what has to be done, when it has to be done, whether they feel like it or not - it's always show time!
The group runs at the speed of the leader.

Two classic books,

Think and Grow Rich by Napoleon Hill

and

How to Win Friends and Influence People

by Dale Carnegie

are both highly relevant 70 years after publication. Have you read or reread either lately?

Our brands, both personal and business related, should have a crisp unique selling proposition (USP). The ideal statement is under 6 words, is not logical and contains the words "you" and "we". Some examples of USP's that encourage further questions are "We let you focus" for an accounting firm or "We challenge your answers" for a consulting firm. What is your USP?

The person who controls the conversation is the one doing the least talking and the most asking. This is especially true when the person asking is expressing a sincere interest in the conversation.

When the "why" is exciting enough, the "how" doesn't matter. Boaz's point here is that if you understand a persons motivations and provide information that shows "why one cares", he or she will figure out the how. This is the WIFM principle (what's in it for me) at work. I agree with the axiom, with the caveat that the how must include an ethical dimension.

An employee brainstorming session can be a powerful tool. Are you fully engaging your employees to help grow revenues, lower expenses and increase productivity? Some 30-60 minute sessions will both yield some great ideas and help build your culture and teamwork.

Our challenge as leaders going forward, as it always has been, is to establish strong bonds with our employees as well as our customers by truly caring about them, as people and as business partners. What can you do differently today to improve your leadership skills and the relationship your team has with your customers and partners?