(WARNING: Marketing is Not Advertising – this post is simply on the topic of advertising – see last section below)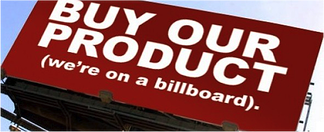 We've all seen billboards on a highway that say, "Does Advertising Work? Just Did!" Are we
supposed to believe that since we've read these words, their ads are effective? I suppose it depends on their objective. But if it's such an effective medium, why are they using their ad space to promote…well, their ad space? Why aren't more advertisers lined up to get their messages out along the highways?
Somewhat related to this notion, I've been asked by no fewer than three CEOs this month about the effectiveness of our advertising on LinkedIn. We recently launched a fairly significant campaign with a dual-pronged objective of building our presence (brand, reputation, awareness) as well as building our opportunity pipeline (leads, both highly qualified and soft leads to nurture). So part of me wants to tell these CEOs that have noticed these ads, "hey, just did!" But I'm not quite that glib. I recognize that CEOs, as well as life-long marketers including our Chief Outsiders Tribe, are always curious about the latest tool or offering.
So…I thought I'd share a bit of what we've learned at Chief Outsiders about LinkedIn advertising. Note that this is an evolving story, and the things that worked last quarter may be challenged to work in the same way the next. Yep. It's moving that fast.
Pay-Per-Click – LinkedIn Ads

LinkedIn's self-service ad engine is pretty cool. You can laser-pick the people you want to reach (by job function or title, seniority, industry, geography, company size, even the groups they're

in), build a simple three-line ad with an image, decide how much per click you're willing to pay, and you're business. Your ads are the little "Ads by LinkedIn Members" that show up all over the place, including where you accept invitations. (Note: even CEOs who don't frequent LinkedIn for research or recreation find themselves regularly on this page).
Favorite Feature – "Lead Tracking"
LinkedIn has named this wrong. Let me explain: when someone lands on your website from the LinkedIn Ad, they see a persistent LinkedIn header at the top that offers a radio button to "have this company contact you." It's brilliant, because the prospect doesn't have to fill in your form, they are just saying, "yeah, get a hold of me" and LinkedIn facilitates (okay, and tracks) the follow-up. But for the advertising company, they get a link to the interested party's profile. It's a brilliant way to instantly qualify your prospect.
Which Messages Resonate?
We are always running multiple variations of ads to test the messaging and even the little thumbnail image. You should too. Then check on the progress in a week and pause the ads that have the lowest response rate. We use this vehicle to actually test new messaging. One thing we've learned is questions are better than statements, and being somewhat provocative or intriguing can make the difference. This is an iterative process that frankly never ends

Going "Big" = Display Ads
LinkedIn has a whole 'nother set of marketing solutions that they call…LinkedIn Marketing
Solutions. Catchy! This includes display ads (those good looking flash ads you see to the right of your profile and other places), 1-line text ads (those sometimes relevant suggestions to take action at the top of most pages), and InMail. They bundle these services together (hence the "solution" idea) and require a minimum commitment of $25,000 for a calendar quarter to get started.
As of this writing, we're half way through our initial campaign. And it's these ads that caught the attention of the CEOs I previously mentioned. Our results so far? Mixed. For one reason, with the display ads you don't have as much flexibility in targeting (a different technology platform, I'm told). This is very frustrating because I know 90% of my impressions are being delivered to a secondary target audience. Still, we have added a number of promising suspects into our pipeline, but we're behind in our goals. I know we'll be reigniting our LinkedIn advertising text ads, as we've been able to attribute results that meet our cost-per-customer goal.
New! Sponsored Updates
LinkedIn's latest paid offering is Sponsored Updates. This is exciting. And it's happening right when Facebook sponsored updates and even Twitter sponsored updates are also coming of vogue. Does it work? Well first, the idea is to have a strong Company page on LinkedIn that is active in sharing news items with company followers. Typically, our updates come from our blog. Now, in addition to the "organic" sharing that occurs from our follows and sharing from our CMOs, we can now target these updates into the news streams of LinkedIn members – based upon very powerful and detailed targeting (similar to LinkedIn Ads – that's the 3-liine text ads). You "pay-per-click" but you don't pay when someone shares the post with their followers, or decides to follow your company. So far, it's driving a load of engagements and follows for us. We're thrilled. And the ideas of how to leverage this new offering are bending my mind!
First, Get a Million Dollars (Footnote)
One of my favorite Steve Martin routines is, "YOU can be a millionaire, and NEVER pay taxes." After repeating this a few times, he goes on with, "First, get a million dollars." In marketing, we're often quick to jump to executional ideas. After all, there are some pretty exciting new ways of accomplishing marketing goals. And it's a fast-changing landscape. However, we've found that most of the answers to more effective promotion are actually "up-stream" or in the earlier Growth Gears as we like to say. We've learned to first get a highly honed, market-relevant, competitively differentiating marketing strategy and set of value propositions, executed with clarity and consistency across our client companies and ecosystems…then think about the marketing mix for promotion. It's not sexy (well, actually I think it's quite sexy), but by being more process-driven and methodical in our end-to-end marketing efforts, we know we will execute with greater precision and efficiency.