I read with interest several recent Elton John interviews in support of his latest (33rd) album release, The Diving Board. In a WSJ interview, the album is praised for being a return to the basic style that had Elton continuously on the Top 40 charts for over 4 years during the mid-70's. The articles made me think about how a brand that started strong can survive for so long putting out some questionable products, and what lessons about marketing strategy we can we take from this.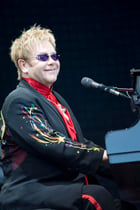 The quick story on Mr. John's career is that he had great success working with a core team of a writer, Bernie Taupin, a bassist and a drummer. He was at the top of his game with hits like Rocket Man, Honkey Cat and Your Song. After achieving success, arguably his product range got watered down, with a long succession of product releases that didn't meet sales expectations. To many in his loyal customer base, it appeared he was going through the motions and had lost his innovative edge.
As I thought about Elton John the brand and Elton John the product, I found there are 4 lessons about marketing or strategic management that we can learn from:
Delight,

don't exploit,

your customer (fan) base.

At the end of the day,

it's about the product

. Bernie Taupin, discussing the album in

Rolling Stone

, nailed it in saying "if you don't have the product it's not going to work." Are your products the best they can be or just good enough? Do you challenge your sales team to provide continuous input on enhancements, your quality team to provide insights into performance issues, your ops team for better materials, etc.

ACTION:

Make product optimization a part of your marketing culture. Maintain a prioritized list of product enhancements and execute against this list.

Know what you do best.

As Elton John changed his product to be more flashy and responded to the commercial pressure (and financial opportunity) to release products (albums), he deviated from his core competency and alienated a large percentage of his fan base. Producer T-Bone Burnett captures it well, "

What are we selling here? A piano player and a singer". ACTION:

State, in one sentence or less, what your firm does better than anyone else. Discuss with your management team if this gives you a strategic market advantage, or if your competitors would say the same thing and you are approaching an industry wide strategic convergence.

Understand your channel.

In discussing a prior release, The Captain and the Kid, Taupin states "the record company just buried that record, for reasons that I'll never know, whether it was political or whatever." Prior to investing in new product development and product launch, have you spent as much time

thinking about the commercial marketing success factors

as you have on the products performance requirements?

ACTION:

Prior to beginning product development, confirm you have VOC (Voice of Customer) from your distribution channels in addition to your end user work. During your development process, ensure this is revisited and someone is assigned the role of devils advocate to strategically challenge the teams thinking.

Publicly recognize your team.

In accepting his induction into the Rock & Roll Hall of Fame in 1994, Elton John put the spotlight on his writing partner, saying "Without Bernie, there wouldn't have been any Elton John at all."

There are two takeaways from this statement, one is an acknowledgement that the

brand is bigger than its namesake

, the second that spreading recognition can highlight the depth of talent your brand has.

ACTION: Honor three of your top performers on your companies social media outreach this month.
I realize this is a broad simplification of a long and successful career. The points made – understand your strengths and execute against them, continuously improve your products, study your channel and promote your team – are significant business lessons that can help you reignite business growth.