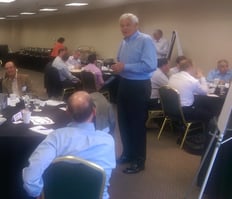 Sales Strategies and Go-to-Market Strategies
The first in a series of four CEO Growth Talk workshops kicked off with a focus on go-to-market and sales strategies. The format was designed for interaction – a panel discussion followed by CEO table-top issue processing, readouts and open discussions.
The workshop began with Roger Miller, Vistage International Chair, asking a panel of 3 distinguished CEOs to share their experiences. Dov Brafman, Sharkk LLC.; Jim Grady, CEO Cellebrite, Inc.; and Rick Wood, Managing Director, Rollon Corporation, shared lessons learned from trying different sales models, adapting their strategy to market changes, and managing major business transformations. Following the panel discussion, small groups of CEOs selected a related challenge to discuss and prepared a read-out of findings. Slade Kobran, Chief Outsiders Managing Partner Northeast/CMO, led the reporting session and, of course, a lively discussion ensued.
Highlights
CEOs agreed that whether you hire or outsource the selling process, creating and managing a successful sales engine requires:
Strong leadership and management skills
An understanding of the buyer(s)
Sales people with the right personality and skill set
Ongoing communications up and down the organization
A strategy that underscores value vs. price
Top Sales Challenges Identified by CEOs
Finding and developing sales talent
Getting sales to focus on discovery and building relationships
Determining the ideal time to release a product based on feature set
Managing the time lag for implementing sales feedback into product

Managing and reducing the length of the sales cycle
Insights CEOs Shared
Leadership starts at the very top with the CEO. Strong leaders attract strong talent. If the CEO is not strong, it is unlikely that strong people will want to join the company.
Selling is about forging a relationship and showing value. The sales team must understand this and spend the time to discover business needs as well as product fit opportunities.
Transformation of a company takes time and maintaining communication throughout the process is vital.
During a major change, you can see up to 70% of sales team leaving as they may no longer fit, like or understand the new model.
Sales training along with a defined sales process is important so that everyone is using the same language and platform to manage and report on sales.
A matrix, diagram or map of a prospective company's influencers and decision makers can be a very helpful tool in the sales cycle.
Takeaways
Recognize the importance of culture in company success
Understand that you need a sales process to effectively manage sales
Get project managers and other in the company involved in selling
Look to find ways to reduce the length of the sales cycle
Revise compensation plans based on knowledge learned from other CEOs
Get everyone in company to focus on getting more, and better discovery from market
Reduce tasks on sales people so they can focus on selling
Develop a sales strategy that will help manage a long selling cycle