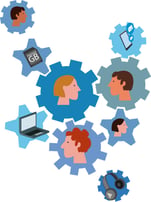 In this first part of a seven part series for CEOs to consider the essential trends of transforming business growth through modern marketing, we'll explore the fundamentals of "going digital."
Scott Brinker, author of "A New Brand of Marketing: the 7 Mega-Trends of Modern Marketing…" asserts, marketing and technology have become deeply intertwined. His book (only 40 pages) can be downloaded from here, free.
Expanding upon Brinker's assertions, one notes that "going digital" may already be passé. However, being digital is not. It's recognizing the full opportunity of leveraging technology for business growth – from assuring relevance to engaging with customers to the delivery of products and services – that brings a 360 degree perspective of the potential, and forever changed impact of the intersection of marketing and technology. But there's more. Since the marketplace itself is quickly becoming digital it's now a requirement to recognize the digitizing landscape – and engage fully into it.
Puck Forward
Like the great Gretsky, we must skate to where the digital puck will be, not where it is today. That means we must not only assess where we are digitally within our competitive and customer ecosystem now, but we must measure the movement and head towards a future intersection. That could mean a number of things, including:
Overhauling our sales processes to recognize how our customer will be buying in the future
Revamping our offerings and delivery methods to meet the future expectations of customers
Identifying weaknesses in competitors, developing winning strategies to overtake their positions
Objectively facing the operational inefficiencies across our organizations, putting rational improvement plans in place to assure more streamlined operations, especially as it relates to customer-facing processes
Wait. Wasn't this an Article About Marketing?
Yep. This is marketing – ensuring our companies are meeting the needs of the markets we choose to serve. It's a big function. In smaller companies (about 55% of the mid-market, according to our research), the lead marketing role falls to the CEO. While the CEO may delegate the promotional and lead generation tasks to a VP of Sales and Marketing, or a small marketing department, they typically hold on to the most strategic elements of the marketing function – until they can no longer scale the business and perform the lead marketing function as well. The point is, the "full" marketing function is huge and hugely strategic, and becoming more so by the minute.
Ready? Let's Start Preparing
Here are a few suggestions for executive management teams to consider for getting started in mapping strategies towards new digitally-oriented businesses:
Digital Market Insights Assessment

Where, as a company, do we stand today in being digitally savvy and enabled? Where do our offerings and customer services stand?
How do we compare to our competition? What kind of gap or lead do we have? What about the pace of our change or adoption?
Do we fully understand what our customers think about us? Are we progressive? Or are we aging? Do we have the imagination to conceptualize what our customers would really benefit from in the future even if they can't articulate it or believe it possible? What can we conceive that they can't? Do we have the courage to deliver it?

Digital Strategy Development

Do our Insights suggest a shift in the markets we serve? How we serve them? What are the implications for our future operations?
Does it change our offerings roadmap? Should we be shunning product lines now to prepare for the future? Can we envision changes to our approaches to pricing (or entire shifts in revenue sources – such as subscription models)? Can we sell how our customers want to buy?
Is the vision of our company intact? Is our purpose stable? Are the value propositions we'll need to promise in the future achievable? Does our culture have to evolve?

Digital Execution Plan

Do we have the team in place, or within arms reach, to execute our digital strategy? Are we able to allocate an appropriate budget?
In what ways will we go to market (or attract the market to us) that will be the most efficient?
How will we know we're successful? What will we do to recover from our mistakes? What are we willing to invest now to assure our future?
Not long ago, technology (IT) was a tool for process acceleration, providing efficiencies to businesses and individuals. Now, technology is quickly becoming the essence of everything – the crux of how our markets want to be served and how our businesses either thrive or struggle. There's a reason we spend so much time staring at our little screens. And our bigger screens. They make us more than we are without them. More connected. More informed. More entertained. More engaged. And yet hungrier than ever before. For more. We "get it" as consumers, now we have to get it as business leaders and more intentionally prepare our organizations for the changes we are just beginning to experience.