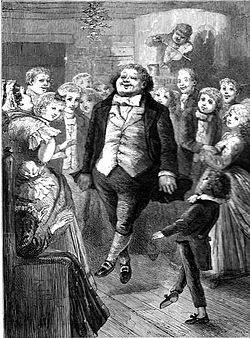 Charles Dickens' "A Christmas Carol" is a much-loved staple of the holiday season, and a personal favorite of mine from one of my favorite authors. Presented for the first time in 1843 to wide acclaim and commercial success, the short novel or one of its many adaptations still entertains millions all over the world over a wide variety of media.
It's easy to see why. The story's message of forgiveness, generosity, hope and redemption resonates with people of many backgrounds and traditions. To this day, it possesses life – and business – lessons that are every bit as relevant as they were in Victorian England.
You know the story. Ebenezer Scrooge (among the best names in English literature) is introduced as a bitter miser, insufferable skinflint and cruel, abusive employer. Jacob Marley, Scrooge's business partner who died seven Christmases ago, visits Scrooge as a tormented ghost to reveal the fate that awaits a terrified but recalcitrant Scrooge.
"I am here tonight to warn you, that you have yet a chance and a hope of escaping my fate. A chance and a hope of my procuring, Ebenezer."
What follows are visits by three "Spirits": Christmas past, Christmas present and Christmas yet to come. Each spirit guiding Scrooge through his own experiences and illuminating the experiences of the people whose lives Scrooge touches.
While in the company of the Spirit of Christmas past, Scrooge visits the workplace where he was apprenticed, Mr. Fezziwig's warehouse, just in time for Mr. and Mrs. Fezziwig's annual Christmas party. What ensues is an evening of joy, laughter, feasting, music and dancing that awakens a long denied aspect of Scrooge's personality.
As the evening wanes and Scrooge and his fellow apprentice are "pouring out their hearts in praise of Fezziwig", the spirit provokes Scrooge by saying:
"A small matter to make these silly folks so full of gratitude."

"Small!" echoed Scrooge.

"Why! Is it not? He has spent but a few pounds of your mortal money: three or four, perhaps. Is that so much that he deserves this praise?"

"It isn't that", said Scrooge, heated by the remark, and speaking like his former, not his latter self. "It isn't that, Spirit. He has the power to render us happy or unhappy; to make our service light of burdensome; a pleasure or a toil. Say that his power lies in words and looks; in things so slight and insignificant that it is impossible to add and count 'em up: what then? The happiness he gives is quite as great as if it cost a fortune."
Upon making this exclamation, Scrooge reflects briefly and regretfully on the mistreatment suffered by his employee, Bob Cratchit, explaining to the inquiring ghost that, "I should like to be able to say a word or two to my clerk just now! That's all."
Scrooge's elegant observation about the power of leaders to positively or negatively affect the lives of the people they employ is timeless. Further, it has profound implications for the experiences of our customers and prospects.
The true beauty in Fezziwig's leadership, and the way it's perceived by his employees and neighbors, is his sincerity and consistency. "…His power lies in words and looks; in things so slight and insignificant that it is impossible to add and count 'em up: what then? The happiness he gives is quite as great as if it cost a fortune."
Fezziwig's leadership is born of high regard for the people he employs, and exhibited in ways too numerous to count. The Christmas party serves as a celebratory accent to relationships that are already rich and rewarding.
Employees who feel valued and respected are happier. They provide better service. They're more creative and more productive. They work harder, bounce back better and support one another more vigorously.
As a result, your products and services are delivered more enthusiastically. Problems are solved more quickly and the "vibe" your prospects get when considering a relationship with your company is better. It doesn't take a social scientist or research analyst to figure out how important this could be for your business.
The onus here doesn't lie exclusively with employers and managers. This positive dynamic exists only when employees, like the young Scrooge, are industrious, competent, collaborative and have a clear understanding of what's expected of them. They also need to understand and embrace what your company stands for (aka YOUR BRAND). These conditions should be met by most companies' hiring and training procedures. If they don't, then you are at a disadvantage out of the gate.
As leaders, we can use Mr. Fezziwig's example to create an environment where we're able to depend on the people who bring our brand promises to life.
By setting high expectations, providing the resources to meet those expectations and celebrating great outcomes, you can make your company a place where everybody – employees, neighbors, suppliers, customers and prospects – are all happier. With "words and looks; in things so slight and insignificant that it is impossible to add and count 'em up…". You can can build a culture where "the happiness he is quite as great as if it cost a fortune."
Please accept my best wishes for a warm and wonderful Christmas. I hope you are safe and warm, and surrounded by people and traditions you love.