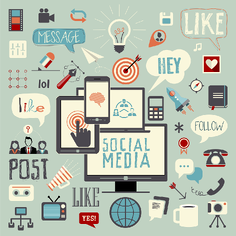 There is so much hype and discussion about social media and blogging, and I often find myself asking the basic and pragmatic questions, like, "How do I know this is going to make sense for my client?" "Where is the revenue I can attribute to the blog?" – well, you know the drill. As a fractional, consulting CMO for mid-market CEOs, I am very focused on wringing out every last drop of potential revenue from each and every marketing asset or investment – and that includes the blog. In an effort to learn more about the social journey, I sat down for coffee with social media expert and CEO of LeadTail Carter Hostelley to get some perspective.
Here's is some of what I learned that was especially helpful to me in thinking through the "social media" effort with my client companies. There are essentially four stages to Blog Nirvana, and it appears there is no shortcut. My sense is that you can accelerate the journey but the distinct phases remain. The first stage is when the marketing manager regularly says, "Oh my gosh, who is going to write the blog this week?" This is Stage 1, which you can think of as the ACTIVITY stage. This is where the focus is on the number of blog posts per month, tweets per day, and status updates per week that you and your team can do. We measure progress in this stage by how consistently you're able to maintain (and increase) your target activity levels.
Just when your marketing manager has the activity level nailed, we evolve from the activity mindset to the "EDITOR's" mindset and suddenly realize that it is important to build a meaningful audience-- especially now that we have all this great content! The focus shifts to building high-quality social channels that include your prospects, customers and influencers, AND employees. After all, who knows your offering better than your employees? The success metrics evolve to the number of new blog subscribers, followers, and fans, but here Carter cautioned me to ensure we keep our eyes on the prize, which of course, is the quality of your new audience members. There should be a relevancy correlation between your new followers and your business. The effort now to build your quality audience will really pay off in the next stage.
So now that you have consistent activity and a growing, quality social audience, the benefits start to trickle in. People start sharing blog posts, retweeting and mentioning your company handle, and liking your LinkedIn company page updates. This is Stage 3, ENGAGEMENT and community management where your challenge is to determine what content, channels, and interactions are best for mobilizing your audience. It is critical to continue to share relevant branded and curated content AND start a dialogue with prospects, customers, and industry influencers… and this takes commitment and discipline.
Stage 4 – is where you really reap the rewards from your social media effort and can finally show a return -- ROI. It is due to your ongoing activity, engaged audience who are driving meaningful action, including conversions: website traffic, landing page clicks, and the Holy Grail, LEADS! And so, your success metrics shift to measure these new and exciting actions. Now, when you can see the path to revenue from social efforts, it is easier to justify resources and other social media investments. When asked for examples of great success, Carter referenced several marketing companies in Stage 4, who were likely enjoying ROI and included Marketo, Hubspot, Buffer, and Unbounce . I am adding my own mid-market example: Pointclear – whose CEO Dan McDade committed to social channels early for his company AND his clients and stayed the course. Just take a look Pointclear's blog. Can you say ROI?
One of the critical success factors in reaching Stage 4 is content and having a well-thought-out plan for developing highly relevant content for your audience. Using the product-centric content you have on hand will not meet the needs of an audience-centric approach to content creation. According to SiriusDecisions, in a recent content survey, the biggest opportunity for improving content quality is to develop and leverage buyer insights to increase content relevance. Most mid-market B2B companies are in Stages 1 and 2 -- working on their consistent activity and quality audience.
And if you are still not convinced that your company needs a social strategy, consider the advice of Brian Kramer, who shares in his book Human to Human:#H2H and concludes his book with the perils of not listening and engaging with the social channel by saying, "If a brand's not listening, social is the loudest megaphone angry customers will ever have."
I'd love to hear what stage you are at on your journey and learn about any best practices and successes you have had. khayward@chiefoutsiders.com