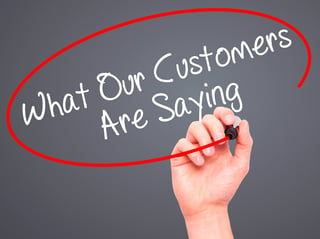 Sales and marketing in the B2B space is ever-evolving, often disrupted with new technologies or strategies that revolutionize traditional processes. Sales enablement is a relatively new concept in the B2B sales industry, one that refers to the utilization of training, tools, metrics and marketing alignment to maximize a deal's potential and close it faster, no matter the product or service.
As Accent Technologies explains, the very magic of sales enablement is in its ability to implement strategies, tools, and processes that continuously increase the efficiency and effectiveness of your sales ecosystem. To achieve true sales enablement, your sales team needs to take action and one of the most important ways to keep the momentum moving on a sale is to properly handle requests for customer references.
From a marketing perspective, it's critical that your sales team handle impending requests for customer references with a defined and well-designed process. While the sales team may insist that providing customer references often makes the difference between a closed sale or a lost one, there's a proper time and place to introduce your prospects to your customers. Ideally, it's not in the beginning of the sales process, although, ironically, this happens to be the point at which prospects most often ask for them.
No matter, your sales team will be approached by prospective customers for current customer references. Even in the middle of the sale process, you may be able to handle concerns without having to come up with a reference. It is critical that sales reps be trained on how to clarify, specifically, what the customer is looking to learn by speaking with a reference, so that they can address their specific questions or provide clarification around the services or product being offered.
Unpacking a Prospect's Request for Customer References
Prospects ask for references for a variety of reasons. When the request is received early in the sales process, the prospect could either be trying to blow your rep off, or they could be providing a buying signal. When the request is received closer to the end of your process, the prospect might be acting out of habit, or because they are required them to talk with customer references before signing on the dotted line.
No matter at what point in the sales process the request for a customer reference is made, sales reps are often fooled into thinking that they are further along in their sales process than they actually are, which is why it is important to have them trained so they can properly deal with the request and maintain sales momentum.
Handling Customer Requests – A Guide for You and Your Sales Reps
First, as a way of testing the waters, have your sales rep proactively ask the prospect whether they would like to speak with one or two your customers. Chances are that the prospect will say yes and then tell the sales rep what they are hoping to achieve by having that conversation. If this approach doesn't result in a sharing of their motives, the sales rep should not be afraid to ask the prospect, directly, why they want to speak with the customer. It is critical to understand why your prospect is asking for references, so you can differentiate between legitimate requests and those that may delay or set back the deal. And more importantly, to gain insight which will help you select the most appropriate reference. Once you understand the items the prospect is trying to address, it is important to brief the reference on what questions the prospect is trying to answer and ensure that the reference is comfortable responding.
Having sold horizontal solutions as a VP of Sales and Marketing, I understand how difficult it can be to respond to requests for industry specific references. This is especially true for start-ups, where the prospect often wants to talk with references from companies within the same industry or of a similar size. Often, as you're growing your business, you may not have the perfect reference in exactly the same industry, so it is imperative your reps are equipped to deal with these specific requests. Consider the following approach:
"Mr. Customer, I understand that you would like to speak to another (insert client's industry / sector) client. However, even if I had another (insert client's industry / sector) client, you would probably tell me that your business is quite different from theirs, for several reasons. What I can do for you instead, is show you how versatile our product (or service) is, in that it works for companies in (insert name of industry / sector where your product / service currently and successfully works) and (insert name of second Industry / Sector)."
At this point, the sales rep needs to have determined the potential customer's primary concern(s) as it relates to working with your company. Then, he / she can refer to a pre-qualified list of existing clients and select one or two who can address the prospect's specific concerns, answer questions and participate in a fruitful dialogue. After confirming that the timing will work for both parties, the sales rep can make the introduction.
When it comes to actually providing references, don't forget about timing. References are precious and must be used judiciously, so it is important that your sales reps pre-qualify the opportunity, insuring that the reference is to be the last step, in the mind of the prospect. The client providing the reference should be aware that the prospect is prepared to move forward, pending a positive reference.
Ultimately, you may find that providing customer references is not necessary and that properly addressing the prospect's concerns completely eliminates this momentum-stopping stage of the deal.
Enable the sale and remember; an effective sales process should enable you to build trust with your prospect. Ask the right questions, listen effectively, and position your service as a way to solve their most pressing challenges. Do these things well, and your prospect shouldn't need anyone else to tell them they're making the right decision. While it might be tempting to let your customers do your selling for you, do not depend on this tactic. Instead, evaluate and address the real need for the customer reference, earlier in the sales process.