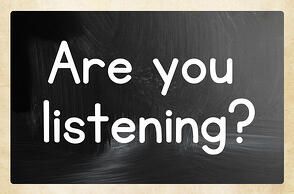 The intersection of sales, product or service marketing and its operational execution is usually incredibly complex in the B2B world. It is not static, often morphing multiple times even in a single sales cycle or customer relationship. Successful navigation requires seeing through your client's eyes. I often ask myself, why do many CEOs and executives (sales executives excluded) shy away from engaging directly with customers to learn about their experience, whether first hand or from enterprise feedback mechanisms?
There is no better leader for an organization to follow than the collective voices of their customers. Time and time again, I see where simply following their direction can open up entirely new service or product offerings that drive share of wallet, can increase customer profitability and loyalty, and potentially block an encroaching competitor. And it costs 6-7 times more to acquire a new customer than retain an existing one, according to Bain & Company.
To drive growth—especially in the services sector—it is critical for organizations to add new logos, but equally important to build their revenues by retaining and growing their current client base. These relationships are managed by account managers and sales reps, who are often the people least equipped to incorporate feedback into product or service strategy. When deals are lost, management is routinely told that it was price related. According to global sales transformation specialists at Beacon Worldwide, experience shows that in reality, across North America, less than 15% of all deals come back to price. In fact, the number one reason cited for switching vendors in IDC's 2012 Buyer Behavior study, was lack of follow up by the sales rep. This underscores the importance of introducing other mechanisms and processes for monitoring customer satisfaction and establishing relationships beyond the sales representative or account manager.
Measuring results and taking action makes good business sense. According to ConfirmIT, a firm delivering Voice of the Customer Solutions, positive customer experiences are not just nice to have. They can have a direct impact on the success of your business. Promoters of your organization spend around 50% more than detractors and are 20 times more likely to recommend your products or services to others. So, the question becomes: What can I do?
Get your Leadership team engaged – take the top 10 largest or most strategic accounts and assign an executive team member to each account. Then, mandate a quarterly site visit with the key client executives to conduct an Account Review and planning session with the client's executive stakeholders. The Account Review should include a robust discussion about the client's strategic direction and plans for the next 12-18 months. The insights gleaned from such discussion can position you to plan your account strategy in response to emerging needs and the issues that are most important to your customer at a business level, and make you significantly more relevant in their eyes. You are differentiating your company from the competition and positioning your team to deliver value - behaving like a partner.
Conduct a quarterly Leadership team workshop to review the key insights and lessons learned from the site visits and agree on how best to incorporate the customer feedback into the company's strategy or go-forward plan. Communicate back to those clients who took the time to provide their feedback sharing any changes that were a direct result of their input, and you will have a more engaged and loyal ally. This field level engagement demonstrates real management support for the customer service and account teams while shedding both heat and light on the issues that need to be addressed by the people best equipped to allocate resources. The ancillary benefit is the alignment of the Leadership team around core issues that often compete for the same resources.
Establish baseline metrics for customer satisfaction and challenge the organization. Enabling customer feedback via online surveys can help improve your operations by identifying where to begin to enhance processes that frustrate customers, prevent upselling and create negative word of mouth. Regression analysis can help prioritize the process gaps that, if addressed, will yield the biggest impact on results. I worked with IT Services provider CenterBeam who was focused on reducing the "waiting time" for speaking with a helpdesk technician.

Upon analysis, it was determined that resources would be best deployed to "fix the problem." Clients didn't mind waiting; if once they had a technician their problem would be solved. So, in this scenario, it was obvious that deeper problem solving training would yield significantly better customer satisfaction results than simply adding more entry level agents to the queue to shorten wait time.
Many customer support tools now include customer feedback survey options for every ticket being closed. Including this module gives your customers an on-demand way to give you instant feedback on your service and the key areas that demand further investigation.
Create a culture around the importance of unfiltered customer feedback.

Can you measure by the customer support team, category, sales team, product and agent or project manager? Share the good news broadly and "fascinate" all of your employees by what the boss finds "interesting"? Identify the process breakdowns, training opportunities or updates needed for documentation. Many fixes are quite simple, yet have a dramatic impact. Happy customers who get their issue resolved tell about 4-6 people about their experience, according to research by the White House Office of Consumer Affairs.
Make survey data real time with dissatisfaction alerts. Have alerts routed to appropriate issue owners and track resolution. Appoint a customer relations person, who is tasked with understanding and documenting the root cause, and work to ensure the solution or remedy is integrated into standard processes and there is a closed loop process back to the client. Alerts may be distributed to the Leadership Team and operational managers, giving immediate visibility to the customer's feedback and issue. Executive visibility allows for quickly managing across company silos where things can invariably slow down or get stuck. At one company, a client reported the account team was late in delivering an important report. The CEO, saw the alert, immediately sent out an internal directive to remedy the situation and also emailed the user directly committing to address the issue quickly.

The root cause analysis changed the entire report process. (It moved to another workgroup with a new delivery SLA [service-level agreement] of 48 hours.)
Share the facts: Sharing independently measured customer satisfaction data with your clients helps account managers and customers stay aligned and focused on the facts. This prevents getting progress derailed by the most vociferous complainer, the one whose voice can often be out of proportion to their issue and can potentially taint the whole relationship. If you offer your clients a portal, why not post their customer satisfaction data for them to view, sort or download data to perform their own reporting for their executive team?
Actionable data is key. If you don't know what your customer experience is like, how can you improve it? If you don't ask the right questions, you won't be able to find the right solutions. Customer feedback and internal communication will improve your company's functioning in the short-run but will vastly improve your reputation in the long-run, as well.
For more information on this topic, download the eBook "The Growth Companies Guide to Gathering Customer Feedback" and the blog by Charles Born discussing how customer complaints should lead to change.