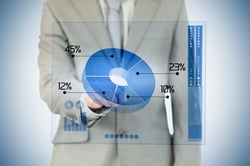 Companies seeking a catalyst for growth or working to manage the choppy waters that often result from a changing competitive landscape or economic swings have a relatively new and effective option to consider. Increasingly, these businesses are turning to firms like Chief Outsiders, that are able to plug in part-time "Executives-as-a-Service" who can make an immediate impact.
Yet even as this concept has gained favor with a host of B2B and B2C companies across the globe, and has resonated in today's atmosphere of "right-sized" expenditures, many CEOs are skeptical that a part-time resource can be the RIGHT resource. Whether instigated by mixed results from a general-market advertising agency, or the ghosts of a revolving door of marketing "experts", many organizations are simply reluctant to try something new.
To these folks – and others who are just now being enlightened about the "Executive-as-a-Service" phenomenon – we have assembled this list of four advantages a fractional CMO can bring to your company leading it towards a new era of market-based growth:
They are a Truly Objective Observer.
Why do the best run companies often have the hardest time growing? Though this sounds contradictory, there's a fairly logical reason for this phenomenon: The skills needed to do an amazing job to mind the ship, operationally, as it sails smoothly through the waters of success, are not the same ones needed when a course change is prescribed.
Said in more practical terms – the skills you need to run your company – along with the metrics and procedures that keep it functioning at its best – are inwardly focused. But when it comes time for that big growth initiative – the one that leads to the next market segment – you'll need the kind of global perspective that comes tucked into the fractional Chief Marketer's kit bag.
They Will Define Your Marketing Universe.
Defining – and redefining – the marketing landscape can be a formidable challenge. To answer the question of, "What should marketing look like for a midsized company?" requires a lot more than brochures, trade shows or Twitter. Marketing, especially for a midsized company, is really more about go-to-market, cash-register-ringing strategies and consumer intelligence.
To plan appropriately in this atmosphere, you need a process that starts with an understanding of your customer's competitors, from the perspective of your broader market. What are their needs? How do your products fit into their needs, verses how much can you push towards them? Taking these market insights, and aligning your products and services with the market, is an ideal task for a fractional CMO -- someone who has performed the same objective assessment for others.
They May Be the Only Marketing Expenditure You'll Need to Make.
Though this is a bit of an exaggeration, it is true that many companies – particularly those in the B2B and industrial space, or even technology companies -- do their best marketing without spending a dime. For those companies, they understand that it's not the glossy, budget-chomping advertising campaign that really matters.
As noted above, it's about being certain that the products and services that you offer are aligned with the needs of the market. Many companies will open their wallets to hire a well-regarded marketing agency or an advertising agency that is good at prescribing a one-size-fits-all approach. But to say, "Here's your product and here's your consumer – so this is what your message should be," is really a form of marketing malpractice. Good marketing starts with that empirical understanding – and often includes bringing in a resource that can sit with the sales, product marketing team and C-suite and get a "birds-eye" view of the landscape before spending Dollar One.
They Can See What You Can't.
Perspective – as hinted at the previous point – can't be underplayed. Having an experienced outsider come in and facilitate the discussion helps, frankly, to cut through the B.S. that results from people on your team who are so enamored with your product or service that they can't possibly be objective.
A fractional Chief Marketer can take a step back and and gauge things like: What does the customer care about? How do they make decisions? Who do they consider the competitors and what do they consider the strengths? The decision-making matrix for a consumer – an amalgam of physical needs, functional needs and emotional needs – can be complex. For example:
The physical need can be something as simple as, "I need to move around the city of Houston to do business." Well, I could do that with a motorcycle. That is a pretty low expense thing.
Now, layer in a functional need, "Sometimes I need to be in a suit or a sport coat, and it is kind of humid in Houston, so I need a car with air conditioning."
Finally, add in the emotional need. "I am a CEO and I have built this company and I have done great things and that explains why I drive a Mercedes. In my case, I am willing to pay a lot more to satisfy that emotional need, than I would the physical or the functional."
Though it can be daunting to consider entrusting your marketing direction with an outsider, consider whether you feel you have the expertise within your current organization to achieve the type of immediate momentum shift called for in today's marketplace. If the answer is no, it may be the perfect time to engage an "Executive as a Service" to inspire, motivate and steer your enterprise toward a new frontier of growth and success.