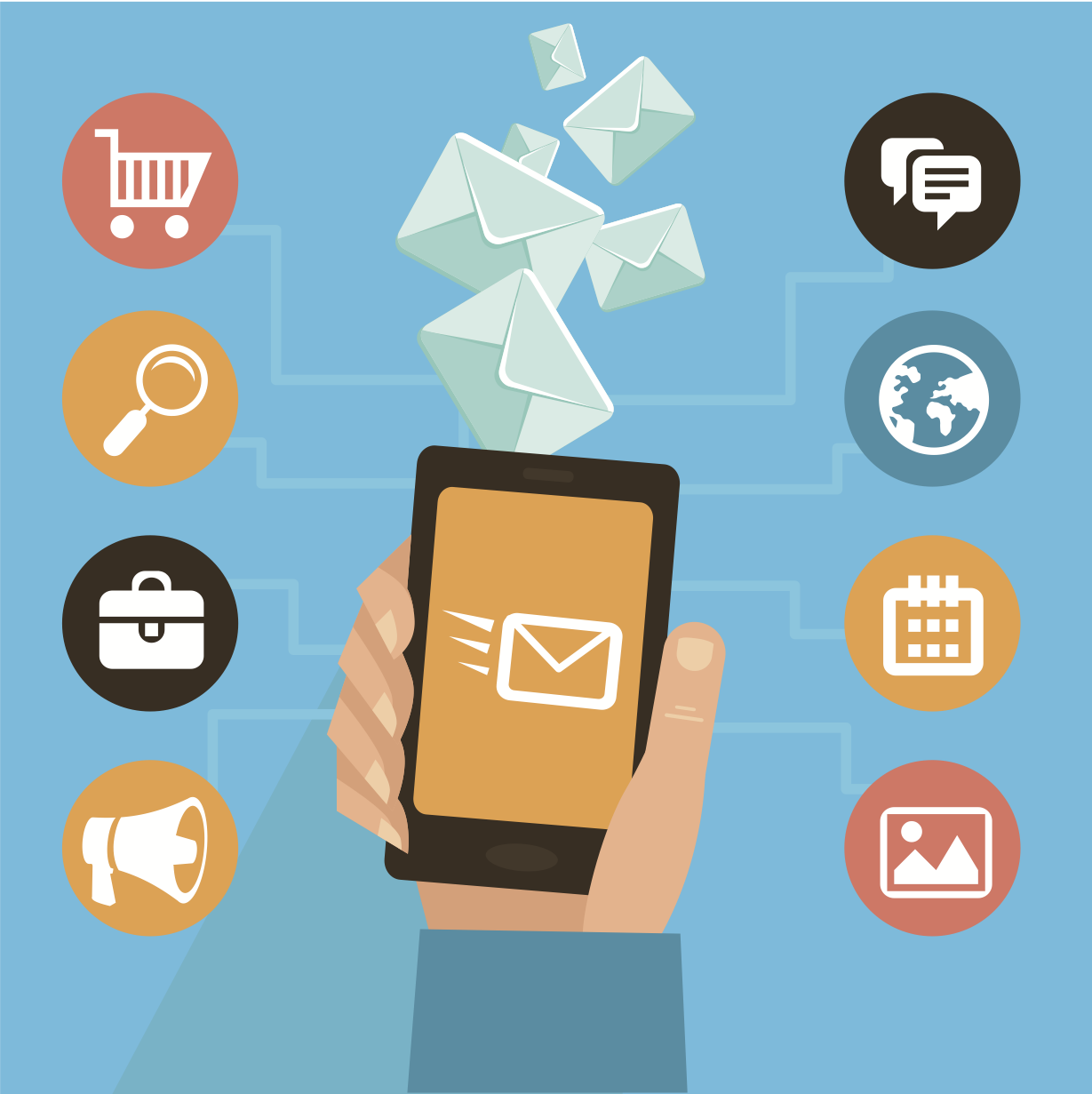 Engagement in the world around us — once purely the domain of the five senses — today would not be complete without the flurry of taps, swipes and scrolls that we make on a pocket-sized smart device. One does not need a lot of research or statistics to see how non-negotiable our relationship has become with our mobile devices.
As marketers, we no longer can count on consumers to look away from their small screens to view information about our products or services. The trick in 2015, instead, is to embrace this unique opportunity to serve relevant data directly to their device.
In 2014, users who consumed digital data with mobile devices finally surpassed desktop users — and didn't stop. In fact, the lead continues to widen for mobile in 2015.
According to Gartner, more than 70 percent of U.S. consumers have a smartphone in their purse or hip pocket, and 40 percent of 18- to 34-year-olds acknowledge regular use of a tablet.
What are they doing? Email, texts, web searches and social networking still lead the way.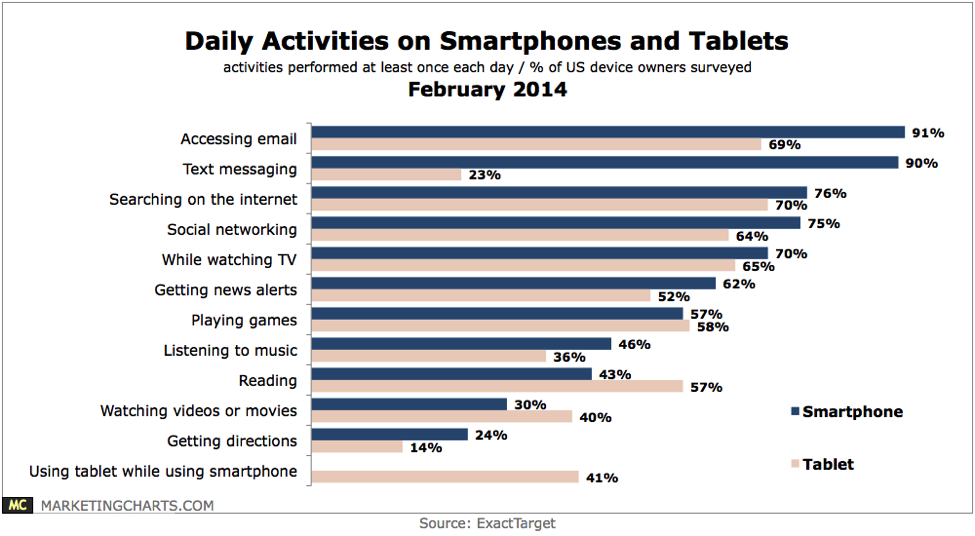 The good news for B2B marketers is that this mobility trend isn't limited to consumer activity. Today's B2B buyers want to use mobile devices of their choice to research products, view content, and review proposals, as well as pricing — anytime and anywhere. According to the IDG Global Mobile Survey, 77 percent of executives use their smartphone to research a product or service for their business.
Let's explore five areas of focus where, with a degree of mastery, you can win the mobile mindshare game:
1. Responsive Website Design
Due to the pervasiveness of web content & interactions, users have high expectations for their mobile experience. They demand an excellent user interface with a design adapted for mobile devices, and quickly disregard sites that load slowly or look clunky on their smartphone. When they find mobile friendly sites, they are more apt to revisit and be loyal to them.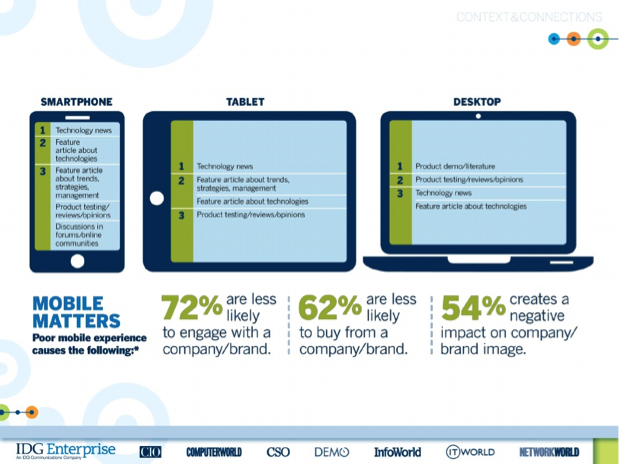 Using responsive design — a technique by which the site will automatically adapt to the platform through which the user is accessing it — ensures a clean, uncluttered and consistent experience across screens. This consistency is especially important because while the buyer's journey can span multiple devices. Consumers may conduct research on smartphones but make the purchase on a laptop or tablet
Tracking consumer behavior on your mobile website provides useful insight. Look at the web logs, which likely have mobile traffic (by device type) broken out separately. See where the consumers go on the site and follow their actions.
2. Content, Email, and Social
In addition to being the top mobile activity, email is the third biggest driver of revenue on mobile phones and tablets. If a mobile email doesn't look good, over 70% of the recipients delete it immediately. As such, marketers should keep the constraints of the mobile medium in mind when designing marketing emails. Similarly, companies need to create shorter, digestible newsletters that can be read easily on mobile devices. They whet the user appetite encouraging them to read more at a later time. The long-form content can be linked to and hosted on the company web page. Content viewed in a "mobile-friendly" manner can significantly increase response rates and ROI.
Consumers initially fed the growth in social media usage, but now, B2B customers are increasingly active in social networks as well. A recent survey conducted by IDG Enterprise found that 82% of the B2B respondents used social media/networking sites for business purposes. Social sites like LinkedIn, Twitter, and Facebook, are outstanding avenues to engage with both consumers and business customers in a less formal manner while they are on their mobile devices. Since cookies don't work in most mobile environments, companies are now using data from social media platforms to follow consumers online.
In 2015, consumers will be looking for content to be increasingly "personalized." They want their activities to be connected across all their screens so enabling features like social sharing, and engagement within all of your content would be a mandatory step.
3. Location and Beacons
In the B2C environment, it's not enough to pair the right message to the right person – it has be done at the right time, and in the right place. Geotargeting — a trend by which a phone's location services plays a role in accessing geo-relevant content for consumers — is promising, but privacy concerns need to be addressed.
According to Mobile Media Summit, retailers have been quick to adopt location-aware apps and beacons since they allow them to provide relevant information and promotions based on the consumer location. Push notifications and targeted messages based on location are driving sales at many brick-and-mortar stores today.
Beacons communicate with users' smartphones via Bluetooth. They can work with mobile payment systems to not only increase consumer ease of use, but also to provide rich data to retailers.
4. Mobile Advertising
Though marketers are still trying to find the best formula for using mobile contextual and display advertising, it does seem that their best role is as a "supporting player" by creating awareness to encourage conversion later. As the effectiveness of mobile display ads is still being assessed, it may be better to have rich interactive ads or campaigns that offer premium access. It is more effective to have a call to action like a hashtag or contest – to encourage the desired consumer and business response. The challenge is to execute these enhanced campaigns quickly and consistently in any setting.
Difficulty in measuring ROI has been holding back growth in mobile ads. There are now tools available to marketers that will allow them to measure, record results and make impactful real-time changes during the campaign — not afterward, when it is not as meaningful.
5. Mobile Applications
According to the U.S. Mobile App report, Americans spend more than half of their time on mobile using applications. Mobile apps, when built and deployed properly, can drive meaningful interactions and engagement with customers. The challenge is to keep customers engaged once they've downloaded the app. Gamification, relevant updates, push notifications, and beacons are examples of engagement strategies. The key is to gain an understanding of which of these strategies to use, and when — and to use that engagement to drive the buyer's journey.
While the apps are more prevalent in the B2C space, B2B companies need to recognize this trend and assess their mobile presence within apps most relevant to their buyers. They can also use apps to provide easy access to resources and improve the user experience at company events and meetings.
While apps work in many instances, they do have some disadvantages. It can be hard to get users to adopt them, and apps, unfortunately, do not help with search engine optimization (SEO). With a large number of mobile operating systems and devices, it requires a significant investment to build and maintain an app. Assess the pros and cons before you decide to provide your own app.
Hopefully, you are now convinced of the value of adopting a "mobile-first" approach. With the right vision, focus and execution, perhaps it will be your company gaining mobile mindshare the next time you see someone entranced by a collection of words, symbols, and pictures on their smartphone.
What are you doing for mobile marketing in 2015?