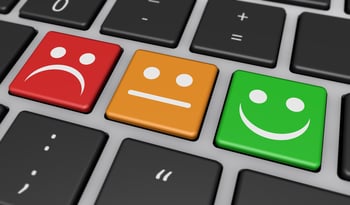 Part 1 of a 3-Part Series
"The purpose of business is to create and keep a customer."
- Peter Drucker
With that simple, concise statement management consulting legend, Peter Drucker, captured the essence of business. He also made it clear it all starts with the customer. That's never more true than today. The era of the empowered consumer, driven largely by technology, has resulted in customers demanding more of companies and wanting the experience to be delivered on their terms.
As the leader of your company, how are you thinking about the customer experience? Is it a formal part of your company strategy and culture?
This series will focus on four key customer experience components that you can implement individually or as part of broader customer experience program. Like Drucker, my goal is to keep things simple and concise, as well as actionable.
"Customer experience" has become a very popular business term over the last decade but it comes with a broad range of definitions. In the spirit of keeping it simple, I define customer experience as the interaction between a customer and organization over the duration of their relationship.
Similar to brand, every company has a customer experience, whether they know it or not. Or whether they consciously create it or not. It's common for discussions about customer experience to turn toward companies like Zappos, Disney, Southwest Airlines, Apple, Nordstrom, to name just a few of the usual suspects. Some would have you believe these companies have an inherent or natural ability to deliver a great customer experience. They were "born that way." But research and experience have shown offering a superior customer experience doesn't just "happen." These organizations hire and manage associates and develop go-to-market strategies with a focus on creating a very specific customer experience.
I have been fortunate to be part of the development and leadership of customer experience programs at three companies. Each of the companies was at a different stage in its evolution, however, all three recognized their customer experience was not being actively managed and it was having a negative impact on their growth and profitability.
You might be thinking, "My company doesn't have the resources to take on a customer experience program." If that's the case, I'll offer the following advice:
Start small. As I referenced earlier, the elements I'm going to cover can be taken on individually. Start with your biggest area of concern or the area that will give you the biggest "bang for your buck" and build momentum.
Leverage your existing resources. Even a formal customer experience program shouldn't require an excessive investment or a big team. In fact, at one of the companies I worked for the entire program had just one dedicated associate. His role was to be the evangelist for the program and drive activities and best practices across the company. The CEO championed the initiative and did a great job of communicating the importance of the program to the company, so staff across the organization took responsibility for parts of the program partnering with the customer experience leader.
Approach customer experience as an investment rather than an expense. If done well you will see a return on investment in the form of increased revenue and/or improved profitability. I'll talk more about this point later in the series.
So, where to begin? I'll start with the same proposition I've presented at several organizations: Leading companies have customers who are:
Engaged with the company and the broader customer community.
Successful in achieving their goals using the company's product (or solution, service, etc.).
Supported and managed throughout their life cycle with the company.
Loyal by continuing to purchase from the company and promoting the company to their colleagues and friends.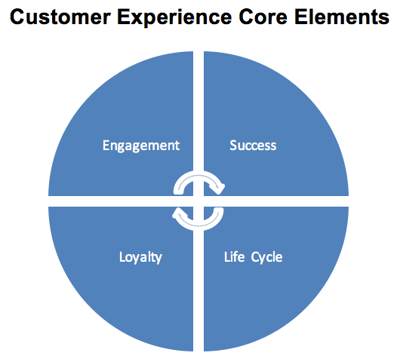 Customer Experience Core Elements
Those four areas – engagement, success, life cycle, loyalty – represent core elements of a customer experience program. In parts 2 and 3 of this series on improving the customer experience I'll cover each of these elements, and close with some key attributes that will help ensure success.