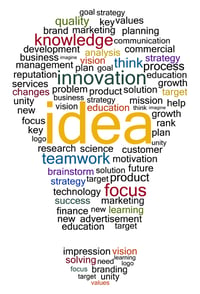 As the CEO and leader of a business, every day at the office can seem like a war between competing factions -- a battle between a seemingly endless list of tasks, a myriad of possibilities, and way too many demands on your attention.
In surveying these "troops," it's hard to pick the right battalion to keep your company afloat and running smoothly. Should you be most focused on keeping your customers happy? Training your employees? Making sure you have the right suppliers and supply chain? Getting the bills out on time?
The list can get long.
In fact, according to PricewaterhouseCooper's 2016 Global CEO Survey, a vocal majority of CEOs worldwide harbor great concerns about issues that lurk even larger: transformation, measurement of success, meeting greater expectations, and of course, business growth.
When was the last time you had the time to think about actually growing your company, instead of merely putting out fires? Even some of the most well-managed companies are not growing as much as their leaders would like, because he or she is, rightfully so, focused full throttle on operating the company.
The very prospect of strategizing growth is daunting. It would be nice if there was some magic formula to drive revenue and profit, you ponder. But how can I possibly lift my head up from the day to day and step back a bit to understand how to grow – and continue to do so?
Managing Growth through Insights
One of the simplest ways to start is by collecting and employing real customer insights to inform your expectations about growth. Think of those critical, organic types of observations that usually come from stepping back and looking beyond the way your company operates today, or perhaps gazing a little further at how other businesses operate in the marketplace.
According to Forrester Research, customer insights are critical in helping organizations to capture, manage, analyze, and apply customer knowledge so your business can win, earn, and retain customers.
How can you, as CEO, ensure the connectivity between insights and actual results? Although some companies spend greatly for systems to develop, gather and act upon data and analytics, the reality is that taking the first step to develop real insights that matter to your business can actually be low cost – and simple.
What Baking Can Tell You About Insights
Before you think about defining a "Big Data" budget, take the example of a company in the baking mix business – the ones that consumers can use to bake cakes, muffins, and brownies. This is a steady, slow growth business, and like a lot of mid-sized businesses, it's not exactly on the Google growth trajectory.
One of these companies decided to study how their customers used their products. They paid $50 to visit one of their customers at home, and for an hour, they observed a woman and her children baking a cake.
At first, nothing new emerged. It was a run-of-the-mill home baking session: They added eggs and oil, swirled it together in a mixer, poured the batter into the pan, and slid the concoction into the oven, just like every other time. It was routine, and even boring.
While the cake was baking, they took another approach and interviewed the customer about her preferred types of baking. They then asked if they could look into her pantry, to see what other ingredients she had stockpiled.
When they opened the pantry, they found 20 boxes of baking mix on the shelf. The normal inventory for this kind of business, according to the data they had, was only one or two per household. What was going on with the 20 boxes?
They learned, by talking to the customer, that in a lot of small towns across the U.S., there is a hometown baker with a great local reputation who makes wedding cakes – large wedding cakes – for people in the neighborhood. They use commercial mixes for the base layer of the cake, while they focus on frosting and decorating the cake to make it special for their neighborhood client. While a single cake for a family might use one box, a wedding cake uses anywhere from 5-10 times more!
Because they took the time to spend quality time with their client, they discovered a crucial insight – there was a whole market the company really wasn't leveraging because they simply hadn't known about it.
Going forward, they started to leverage this market and used it as a way to grow their business. For only $50 and one hour of their time, this large enterprise organization came up with a simple, "home-cooked" idea that could drive major growth.
What Are Your Insights?
No matter what industry you're in, every business has its own version of this story. It might be sitting down with a customer, or observing how customer shipments are packed up and sent out, or riding with a delivery driver to see firsthand what happens on a delivery route.
Maybe it's talking to one of your customers who switched to a competitor's products or services. Why did they switch? By sitting with your inbound order takers and listening to the customer as they order, you may be surprised with the level of insights you'll gain.
If you have the time to interview your customers directly, other types of questions to ask consumers about your product include:
What is the one thing you think we do really well? How about the one thing that needs the most improvement?
What do you think we should stop doing?
What is one thing we don't do that we should start doing? Do our competitors offer it?
Would you recommend us to others?
According to Digital Marketer, the best (and most useful) customer insights will be gleaned by asking them personal questions: How would you describe yourself? Would you recommend this product to a friend? What would you miss the most if the product were no longer available?
Leveraging Insight for Your Business
In the age of "Big Data" and powerful digital analytics, the art of face to face human insight is often forgotten. The lesson of the big baking company is just one example.
Since you never know where the idea is going to come from, spending a small amount of time to survey your customers on their insights firsthand could be the first step in achieving the kind of revenue and profit growth you are looking for.
How can you leverage the power of human insight to grow your business?