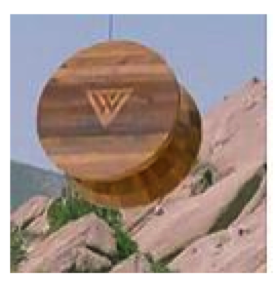 Marketers for Benjamin Moore Paints, intent on promoting their ArborCoat Stain that "makes old wood look like new," recently built the world's largest yo-yo out of old deck wood.
This man-sized toy, measuring six feet in diameter and weighing nearly 400 pounds, sets a new standard for spin.
The team carted it out to the desert and dropped it from a 100-foot crane. Like too many marketing campaigns, it went up and down a few times, and then came to a complete stop, hanging out there inertly.
Whether you see this guy trick as a lovably retro attention-getter or a stain on the profession of marketing, there's no doubt it was calculated to amuse. But will it monetize? Who in Benjamin Moore marketing could know whether it would be an effective marketing strategy, before deciding to drop hundreds of pounds of cash to find out?
CEOs and sales leaders often relegate marketing's role to generating that vaguest of business outcomes, "awareness." Marketers too often seem to settle for this career- and revenue-limiting goal, putting enormous effort into style points rather than focusing on strategies and tactics that have a measurable impact on the sales pipeline and business growth. That's why, in an economic downturn, too many marketing careers wind up twisting in the wind.
What's better than a 400 pound wooden yo-yo? Marketing strategies that make a measurable difference. For instance:
Remember the first rule of demand generation:

The goal is not attention.

It's conversion. Campaigns that "drive awareness" don't pay.

You have to be able to tie every marketing investment to suspects and revenue that make it into pipeline. To do that…
Know what works.

Your marketing team should be doing A/B testing on every major message and every campaign.

Implement closed-loop lead gen analytics, so that you and your team can stop wondering why their results just yo-yo up and down.
Instead of producing white papers that transparently flog features conveniently mapped to the company's products, generate content that passes the "so what test": Every line should tell a suspect something they don't know, and truly want to know.
Don't settle for "branding" and "awareness" in social media – make it a vehicle for qualified demand gen. No bitly should go out that doesn't land on a dedicated campaign landing page that invites an e-mail address (and to reduce abandonment, not much more) in exchange for a content asset. Only then do you know which Tweets resonate.
Relearn the art of direct mail copywriting. Yes, it turns out that the first few words of a Tweet or post are the place where minds are engaged or lost. The dead-tree discipline of direct mail has a lot to teach us (instructive, and cautionary) about generating qualified engagement and suspects.
Rather than limit your digital advertising to desk-bound browsers, learn what Real-Time Bidding (RTB) tools can do for you:

run integrated campaigns that map ads 1:1 to individuals on their phones and browsers, based on their prior behavior and an insanely detailed array of individual data (expunged of identity) available from third-party sources.
If your marketing team is already all over these strategies, congratulations! But if you're hearing the sales team baying for greater quantity and quality of leads, or if you're uncertain about the value you're getting from marketing, or if your revenue curve isn't what you know it could be, now is the time to take it up a level.
Given the 1,001 Things that marketers are expected to get done these days, it's easy to get trapped in the marketing equivalent of trying to make old wood look new.
But there are ways for CEOs and marketers to generate real results, do less heavy lifting and have the kind of fun that makes a measurable difference.