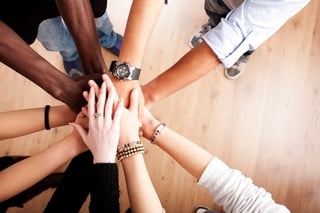 M&A continues to be a preferred growth strategy for many executives according to KPMG's 10th Annual Study of the M&A Outlook. The key trends driving M&A activity vary by industry sector but the primary challenge is consistent across the board - valuation disparity between the buyer and seller.[i] As a result, most of the effort is on financial evaluations during due diligence, and other areas, like human resources, can be postponed or overlooked.
Failing to recognize the importance of employee sentiment and engagement can result in a waste of resources and missed opportunities. The best business plan and marketing strategy will only breed success if there is a strong, positive and productive culture.
Leadership competencies can predict M&A success
It's no secret that achieving a successful merger and/or acquisition requires special skills beyond negotiations and valuation. With 40-80% of the deals failing to meet objectives, it is evident that there are many factors that contribute directly to the success or failure of the deal. Dr. Keith Dunbar, President of Potentious, a Washington DC- based consulting firm, conducted a 5-year study that focused on how the collective leadership skills in M&A can influence financial outcomes. In his initial doctoral research, he identified eight leadership competencies that pointed to success.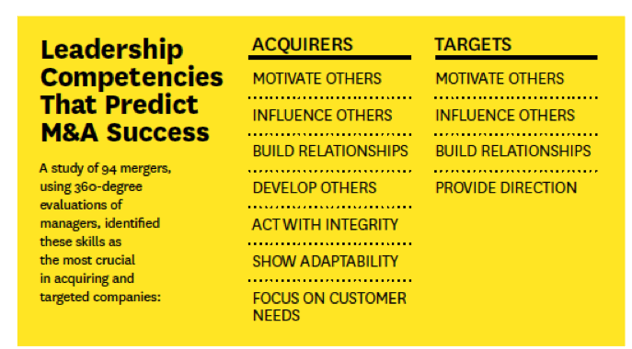 Source: "The Leaders Who Make M&A Work", Harvard Business Review, September 2014
The competencies differ by whether it is the acquirer or the target company. In Dr. Dunbar's new research he identified specific role competencies that led to M&A success, including the sales and marketing functions. For example, when looking at competencies for marketing leaders, the acquiring company should have a marketing leader who thinks strategically and provides vision.
Marketing Challenges During M&A
A company strengthens its brand by strengthening the culture. This is why culture is so important to marketing. Culture starts on the inside and shapes how every employee turns the brand into a promise delivered. Without the right M&A leadership competencies, achieving an energized and productive culture is highly unlikely.
Understanding the market, the buyer journey, customer pains/gains and engaging with customers are common elements to any effective marketing strategy. What makes the M&A situation unique is that the culture is evolving. The challenge becomes how to build a marketing foundation on "wet concrete."
The impact of culture on marketing success cannot be overlooked. In M&A situations, culture can be the Achilles heel of the most effective marketing efforts (as well as the new company success). Unfortunately, the importance of this element does not become evident until the programs are running, invoices are pouring in – and sales are not.
Culture and Leadership Competencies
At a recent engagement, I was hired to help build a marketing strategy, plan and organization for a new company. The company was the result of the merger of a small company with a carve-out from a large organization. The new company had little to no organized marketing in place. Having marketing leadership experience and skills was important, but that alone would not have been enough to be effective.
As a consultant, there is no prior allegiance to either the target or acquirer. This provides the advantage to build collaboration and gain the trust of employees from Day 1. There is no time to waste and use every opportunity to reinforce the marketing mantra -everyone is a part of marketing and the brand. Reinforce it as much as possible.
The message here is to understand that marketing touches every part of the organization. Not only the sales team and service group, but that every employee or stakeholder impacts marketing. People are the brand and people are what make marketing effective – it's what makes a brand great. The best inbound and/or outbound lead generation programs will not turn a positive ROI if sales and service are not embracing the brand. A well-constructed, valuable-content loaded, dazzling web site will not do the trick either. The foundation of a company rests on the culture. It must be strong so it can withstand the challenges on the road to success.
Key Drivers for Marketing Success in M&A
Look beyond the business objectives and marketing strategy in M&A situations. Open your eyes and ears to understand the culture development journey and factor this insight into the KPIs. Although none of these tips may be "earth-shattering" revelations, they can really help CEOs and leadership teams build and nurture a strong culture.
This is paramount. You can't over communicate. Make a commitment to keep internal and external stakeholders informed using multiple channels – videos, email, posters, town meetings.
Positive, can do attitude. If you want the employees to be upbeat and engaged, leaders need to personify this in every action, every day. Live it.
Open minded. Listening is the most important skill a leader can have during M&A. Do not assume that what worked before (in either company) will continue to work in the new environment.
Execute quickly. If you do it wrong, do it fast and fix it faster. Avoid a state of inertia.
There is never enough time, and often, budget limitations. Leverage creativity, employees and relationships.
[i] Source: KPMG U.S. executives on M&A: full speed ahead in 2016