"We win 15% of the projects we propose. Our competitors also win about 15%.
"With the other 70% of proposals, no one wins. The prospect doesn't proceed with anybody."
-CEO of a technology integration company
Ever heard yourself saying something like that—or heard a peer say it?
The status quo is often your fiercest competitor.
Losing When You Shouldn't Lose
When the investment in a new system, a new product, or other initiative is too much to fund from the current budget, multiple decision-makers are usually involved in the decision to buy (or not).
I've come to suspect that a significant percentage of the "No one wins" are due to your champion at the prospect not being able to make a persuasive case to those other participants in the buying decision.
Sometimes that's for good reason. We realize that sometimes a decision not to proceed is best from the customer's perspective. Maybe there are better uses of their funds, or the organization just isn't in a position to fund the investment no matter how creative we can get with financing.
However, we probably have all seen some investments with tremendous merit that should have been approved, but weren't.
That's illustrated by the bottom left quadrant below, where an under-informed "No" decision doesn't serve the prospective buyer's best interests (any more than it does yours as the seller).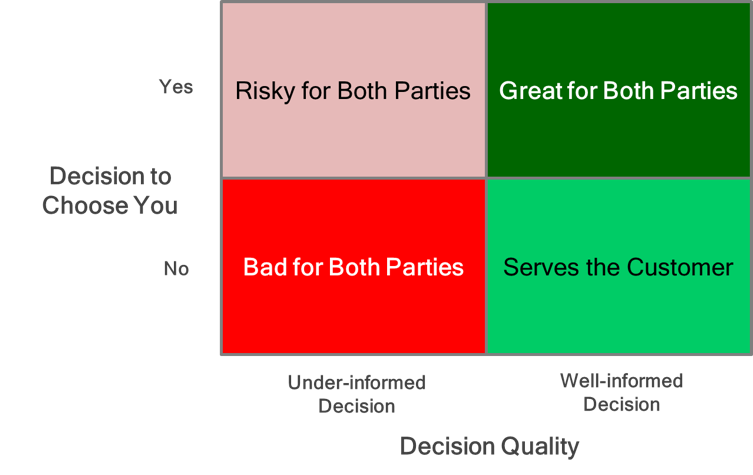 Enabling Prospective Customers to Make the Right Choice
Problem is, it's not enough for your champion to understand how you as the seller can make them better off. The champion must also build a persuasive business case that enlists support from others involved in their company's decision.
How can you accomplish that?
The Extended Selling Team: Equipping Your Champions
You can grow your sales by equipping your champions with a story for each key function (Finance, IT, Operations, etc.), and the tools and the skills to present the story well.
Packaged materials such as brief videos and ROI calculators can play a vital part in this extended selling process.
Manufacturers that sell their products through channel partners (such as wholesale distributors or retailers) have done this for many years. In my experience, though, it's far from standard operating procedure for IT firms, capital equipment manufacturers, and other firms to equip their champions to do the selling job internally.
Consider making these items part of the selling kit available to your champions:
Brief explanatory videos
A self-assessment diagnostic questionnaire
Business case template with economic value estimator
Links to independent information resources (for example, utility rates for investments in energy efficiency improvements)
Case studies from other companies
Frequently Asked Questions and answers
This opportunity for marketing and sales effectiveness is timely. I'm observing a trend of experienced managers being replaced by a new generation of professionals. That represents a great opportunity to establish your firm as THE experts. There's value in being the supplier of services or products that educates the buying decision group—if done in in time-efficient and cost-effective ways—and establishes your firm's credibility.
An Important Step in Turning Heretofore Hidden Value into VisibleValue
I developed VisibleValue® differentiation development services because our clients can't take for granted that all prospect personnel are:
Thoroughly familiar with the problem to be solved and the painful consequences
Knowledgeable of the solution category
All sold on buying
Only have to choose from who they'll buy
When only our champion knows our category and the benefits of adopting it, and the other important decision roles don't, this decreases the number of Yeses and slows down the sales cycle.
That's why my colleagues and I use the VisibleValue system to develop compelling "Why buy" messaging, not just "Why buy from us rather than our competitors." We can equip our clients to equip their champions and thus build their extended selling teams.
The results that our clients can expect:
Compelling reasons to get a Yes
Perceived differentiation
A confident sales team
More prospects agree to meetings
Prospects raise their hands
Increase conversion rates through the pipeline stages
Greater willingness to pay
Our work to make our clients' value visible contributes to 6- and 7-figure margin dollar growth.
Does this resonate for you? Let's schedule a Find Your Hidden Value strategy call. Just find a convenient time on my online calendar.