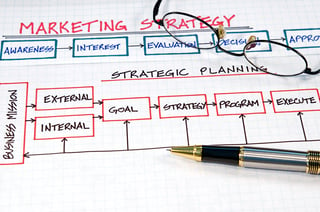 Hiring, outsourcing and leadership considerations
In my previous post, we explored the question, "What should my marketing organizational roadmap look like?" In this installment, I'd like to discuss three additional questions that often surface as CEOs build their marketing organizations.
Question 2
How does the size and scope of my marketing organization compare with companies in a similar stage of development?
$3 to $10 million in annual revenue
A B2B growth venture with $3 to 10 million in annual revenue and a few dozen employees should consider putting in place an in-house marketing team of 2-3 full time resources. Headcount will represent the greatest proportion of total marketing cost.
However, the size of the discretionary (non-headcount) budget is where the greatest variability between companies exists, with discretionary budgets ranging from 25% (conservative) to 200% (aggressive) of the fully loaded headcount cost.
$10+ to $25 million in annual revenue
As revenues move north of $10 million and the marketing team grows from 3 to 5+ full-time professionals—typically focused on field marketing, programs management, digital marketing and content marketing—a single point of accountability for the group becomes essential. This is when a senior team member may get promoted to head the group or a junior leader is recruited from the outside.
Note that the group "team leader" can be one of the sub-function specialists if they have a broader set of marketing skills and experience managing and coaching teams.
This matters not only because of the increasing emphasis placed on the professional maturity, resilience and confidence that comes with several years of experience, but also because it impacts the leader's ability to recruit, guide and retain a strong team and to establish productive, long-term relationships with other functional heads.
Beyond $25 million in annual revenue
As the company moves from mature startup to sustained growth, the marketing sub-function that typically represents the next step in team expansion is product marketing, especially when your company is marketing and selling a complex offering or a portfolio of products and services.
In addition, as the footprint of tools and platforms to enable increasingly complex marketing and sales processes increases in size, sophistication and depth of integration, a dedicated marketing and sales operations manager may be justified. This resource should be accountable for supporting the full "front office" (marketing, sales, channels).
As an organization approaches $50 million in annual revenue, most—if not all—of the marketing roles described in Question 1 should be in place, with some roles represented by more than one person. In addition, the "expanded" team will likely include agencies and/or contractors that may focus on creative/design work, PR and market research.
Question 3
What marketing capabilities should be built in-house vs. outsourced?
With a few notable exceptions (e.g., product marketing), many marketing sub-functions can be successfully outsourced. As an area with critical strategic value, however, marketing should build in-house the sub-functions that create, leverage and expand knowledge and capabilities unique to the company.
The commonly outsourced functions listed below are (sometimes) brought in-house as a company matures and can afford more specialization (and sophistication).
Marketing Functions Commonly Outsourced
Digital Marketing Specialists: The world of digital marketing has transformed how companies engage with prospects, customers, partners and other constituencies. There are myriad digital channels, applications, platforms, partners and metrics that are part of the "digital ecosystem."
Most companies will not have the resources to hire a full-spectrum team of digital specialists (SEO, SEM, email marketing, social media, content syndication, front-end web development, back-end web development, etc.)
A more cost effective approach may be to hire a single digital generalist who orchestrates the efforts of several outsourced digital specialists (individual contractors or agency).
PR/Media Relations: One of the success factors of a media relations program is the ability to influence—over time—the relevant creators and distributors of content. While employing social media facilitates content syndication, it does not guarantee shaping the dialogue of key influencers.
Relationships still matter and, unless in-house team members possess (or can quickly develop) those relationships, employing outside resources (with established connections) may represent the fastest, and most cost-efficient, "path to influence."
Tele-prospecting: To boost the efficiency of a small sales team, emerging growth companies often employ "appointment setters," who tee up initial discussions for individual sales resources. There are hundreds of companies of all sizes that provide these services.
To start fast, companies often outsource prospecting. As the role of this function matures from appointment setters to lead qualifiers, and as the size and specialization of the field organization increase, companies move to more sophisticated service providers, or bring the function in-house.
Question 4
At what stage of growth should I consider investing in an experienced marketing leader?
Of all the questions explored here, this one seems to cause the most consternation with CEOs of growth ventures. In nearly 20 years of working with small and mid-sized growth companies, many of them in the tech space, I have observed a broad range of approaches and outcomes.
Missteps in hiring marketing leadership range from early stage startups that recruit a full-time, experienced CMO (overkill!) to established middle market companies that operate for years with no experienced marketing leadership. Organizations that wait too long often miss opportunities to build a scalable front office that delivers consistent growth.
In-house Experienced Marketing Leader
While there is no single right model (or trigger point) for hiring an experienced marketing leader, the guidelines below summarize some of the key metrics that serve as thresholds for making this investment. These guidelines are especially important when your venture relies on a sales and/or channel effort to go to market.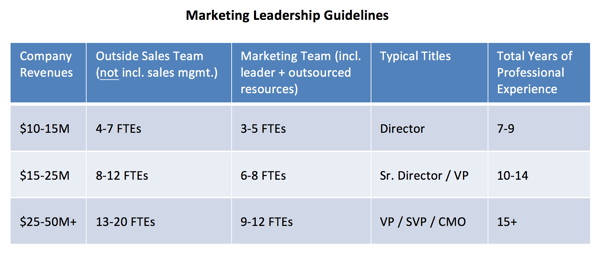 The Fractional Marketing Leader Alternative
The CEOs of an increasing number of growth ventures are choosing to work—for a time—with a fractional (part-time) marketing chief, especially when they want the benefit of experienced leadership but cannot justify the cost of a full-time executive.
A fractional marketing leader can quickly and cost effectively:
Drive the development of a go-to-market strategy
Craft a marketing plan and budget, and drive the implementation of that plan for a defined or open-ended period
Deploy essential systems and metrics; gauge marketing impact and establish a closed-loop mechanism for continuous measurement and improvement
Define the essential marketing roles and requirements and recruit/on-board the core team
Serve as a bridge to a full-time marketing executive and a fully staffed front office organization
Fractional Marketing Leaders in Action
"Working with Chief Outsiders is like having your own in-house marketing experts. The work was high quality. One CMO is a social media monster and the other a product marketing and positioning guru. Both are exceptional marketing professionals!"
"Chief Outsiders empowered our team to sharpen its focus and gain clarity on our growth model. The insights and strategy developed enable A2B Tracking to realize its mission. As the founder of the company, that's everything to me."
Peter Collins, President and CEO, A2B Tracking
Read the A2B Tracking Case Study here
"You either lean on the shoulders of others that have been there before, or you try it yourself through trial and error. We were moving at such a fast pace that we didn't have time to do that. Working with Chief Outsiders made my job a whole lot easier."
Zane Conkle, CEO, Cytracom
Read the Cytracom Case Study here
Getting Started
You now know a rational sequence and the what, when and who of building your marketing organization as your business expands. A skilled and focused marketing team will enable scalable growth, helping you achieve your objectives faster.
With the essential questions answered, it's time to get started. In the previous post, I presented a Marketing Organizational Roadmap for B2B Venture CEOs. I encourage you to discuss the roadmap with your leadership team, determine where your organization falls, and plan your next steps.