As a marketer in the digital age, I am fortunate to have many tools at my disposal that make my job easier. Unfortunately, however, I still have no way to read minds (and that would be quite creepy, anyway) – but one could see how individual "brain-level" insights could have a stunningly positive impact on campaigns, revenues, and overall success.
That's because the Holy Grail for marketers is to understand not just the "who" is likely to buy, but the "why" behind the purchase. If we figure out the need we fill for that customer, at an emotional level, we can effectively cultivate a highly-valued customer.
On this front, there's good news: The same digital tools that help us improve our marketing effectiveness DO provide such a surrogate for mind-reading.
It's called psychographics, and it's about as close to a 50-50 balance between art and science as you can get. The discipline is gaining favor with companies that need to target marketing messages not just to groups of people, but to individuals with a particular proclivity for what they are selling.
Surprisingly, this laser-targeted approach is the most effective way to go-to-market, and it's accessible to companies of all shapes and sizes, whether B2C or B2B.
In fact, a company called Made In – an upstart in the housewares segment – made a repeat customer of me through a very effective use of psychographically-enhanced marketing. Here's the story:
I had recently undertaken some home renovations and was fortunate to be able to build my "dream" kitchen: A modern testament to culinary excellence with all sorts of new appliances, including an induction stove – requiring me to purchase compatible cookware to use.
In preparation for the renovation, I purchased the basic pots and pans I would need from a well-known brand at a regular retail outlet -- which just about killed my budget. As a result, for the rest of my cookware, I needed to look elsewhere. I wanted the same quality, but at a different price point.
Hello Google! After extensive searching and reading reviews, I found a brand called "Made In" that I thought would work. At this stage in my cookware journey, I wasn't 'buying the brand'; instead, I was buying a wok that I thought would work well.
A subsequent need for a six-quart pot brought me back to Made In, where I efficiently made a follow-up purchase. At this stage, I still wasn't buying 'brand,' I was buying functionality and a quality product for the price.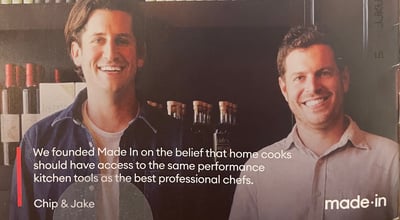 Now, here's where the psychographics came into play. Now that I had become not just a one-off value shopper, but a repeat customer, the brand sent me a direct-mail piece (image included) that told their story, using messaging that hit me squarely in the sauté pan: "We founded Made In on the belief that home cooks should have access to the same performance kitchen tools as the best professional chefs."
This was how our relationship gelled (sorry for all the food puns). Through careful curation of my shopping habits – how I found the website to begin with, what I purchased, how I interacted with the company – Made in developed an approach that resonated on a deep emotional level with me. For the folks at Made In, it wasn't about my zip code or my demographics, but who I am as a person, and what it is I truly care about: I'm a foodie that aspires to cook like a professional. Made In filled this emotional need. I felt like they created this brand just for me. That's something the major retail brand never did.
In contrast, my friend Robin, who is "demographicallly similar" to me and even lives in my neighborhood (but does not enjoy cooking) hasn't received a whisper from Made In: No postcards, no emails – nothing to target this non-foodie.
All of this underscores for me the value of psychographics for any business that is looking to cut through the clutter and deliver messages that truly resonate. They were insightful enough to understand their target audience and bold enough to invest their marketing resources into that highly curated target (rather than just scatter-shot advertising to a general audience). It was interesting to me that those resources included direct mail, even though our relationship germinated through a digital channel.
The point in all of this: Brands can no longer just be transactional in nature. They need to cultivate their brand story and tell it in an impactful way to their target audience, while being unafraid to turn away from the broader marketplace. Does it pay off? In less than a year, I've made four purchases, including knives and wine glasses. And I tell all my foodie friends about the company.
As I mentioned earlier, psychographics resides at the confluence of art and science – and requires a precise recipe to be successful. Here are some of the ingredients that I use to brew up a psychographical marketing program for my clients:
Know Your Ideal Customer Profile: Though this seems obvious, it's completely critical to get right. You want to know who your ideal consumer is, where they live, what moves them, what inspires them – and focus JUST on them.

Start the Conversation: Psychographics represents far more than just numbers crunched by your analytics-tool-du-jour. You have to do the quantitative piece of this as well – engage your target audience in conversation, gain their feedback and insights, and really tailor and narrow the focus of who you're going after. The days of making assumptions based on gut feel are long over.

Have some Intestinal Fortitude: You're going to be spending money disproportionately on your ideal customer, so you have to shift your mindset along with your resources. This MAY mean a little short-term pain before you get to the long-term riches that lie ahead.

Be Real: Subscribing to a psychographics-based approach to marketing means you are going to be real, genuine, and straightforward in your dealings with your ideal customer. You need to engage in solid storytelling if you are going to make your sticky customers even stickier. And, though rewarding them for their loyalty is always appreciated, it's completely optional if the relationship you build (like mine with Made In) is hewn on a foundation of mutual understanding.
Though the psychographic approach – and the concept of the Ideal Customer Profile – can be scary for customers, it will pay off if you can get over that fear. It will deliver to you the kind of focus you need to cultivate loyalty, which will increase the lifetime value of your customer, leading to profitable growth.