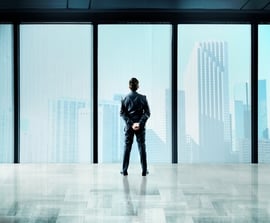 2014 was a bellwether year for the future of technology. It marked the first time Internet access via smartphone surpassed that of traditional PCs or laptops. This seminal event should have served as a screaming, flashing "bat signal" to any company that has not yet fully actualized a digital business strategy. The message – evolve now, or be left behind by more connected competitors and a public with high technological expectations.
The signal appears to have been received by most corporate interests. According to an Accenture survey of 2,000 business and technology executives, 62 percent say they are spending targeted budget allocations on digital technologies – with 35 percent considering the expense key to their overall business strategy.
However, some of you reading these words right now are still using a mouse and – the horror – Internet Explorer – to consume this information. Your flip-phone – clipped to your waistband – certainly is adequate to make phone calls and receive short text messages, right?
Fortunately, adopting contemporary technologies to power aspects of your business does not require a quantum leap forward – but it does require an understanding of the company's comfort level with how it wishes to evolve. This finding is critical in ensuring that the roadmap you're developing is populated with realistic goals, timelines and risk and investment levels.
Three Digital Technology Profiles
Let's look at three digital technology profiles, and perhaps help you take this bold step of "self-identifying" what type of approach you're willing to take in creating digital connections between your product or service, and the market.
1. The Shapers
These are the pioneers when it comes to digital strategy – the corporate equivalent of those people who stand in line every time Apple releases a new iDevice onto the masses. Corporate leaders who fit this profile have decided to double down on their investment in new technologies – often looking to the be the first to offer a trend-setting new app, process or customer engagement scheme.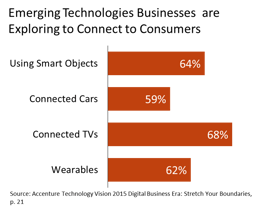 Remember in our first article, when we talked about the Internet of Things (IoT) and its impact on consumers of today and tomorrow? The same Accenture study cited above discovered a ton of Shapers lurking – doing things like using wearables (62 percent), connected TVs (68 percent), connected cars (59 percent) and smart objects (64 percent) to engage customers.
2. The Adaptors
Living in the calm atmosphere of the contrails left by the Shapers, the Adaptors are considered "fast followers" – the ones that are adept at spotting new trends and then expediting their own version. While not shouldering the risk and financial burden of the Shaper, the Adaptor would still identify as someone on the cutting – if not necessarily bleeding – edge.
The Adaptor wins by being nimble – demonstrating a level of speed, flexibility and agility when it comes to analyzing how refining a proven concept can help to open new opportunities for their own company and interests.
Few would consider Apple among this group – but consider that, once Fitbit cornered – and proved consumer acceptance of -- the market on wearable health technology, Apple followed by incorporating a step counter into its mobile operating system -- and later by adding Fitbit-style health measurement into its Apple Watch offering. Of course, if Fitbit can retain its standing as a "Shaper," it should be able to remain in the lead. Time will tell.
3. Reserve the Right To Play
Watching from a distance, while the Shapers and Adaptors float their technological trial balloons skyward, is not necessarily a bad strategy. For those who are typically risk averse or who simply want to mitigate the need to drop a pile of cash right now, these opportunistic types will ultimately bide their time to adopt more proven strategies.
Investing at a sufficient level to stay "in the game" is important – and, for those who are ultimately convinced of the inevitability of a new approach to business, an acquisition of a more tech-savvy competitor may provide the quickest path to the goal.
For those "reserving" and "waiting," it's even more critical to be a keen observer of trends and timing. In a well-documented example, Kodak executives fully expected that consumers would absolutely despise taking pictures without film – and stayed out of the digital photography game until it was too late for the now-diminished former photography giant.

Adapted from Strategy Under Uncertainty, HBR, November 1997

Which Digital Technology Profile Applies Best To Your Company?
So, have you decided which profile your company best resembles? Great – we'll need to make a note of that as we move to the last step in readying our 2020 Vision.
This is the fourth article in a five-part series on roadmapping. Read the first, second and third articles and be sure to check back for the final article where we'll show you how to marry all these concepts to create your own roadmap into a dynamic, electrified highway to the future.