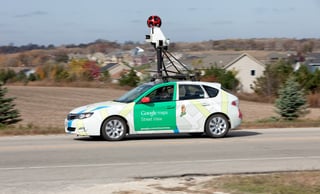 Almost 10 years ago, my wife amazed and surprised me by locating (and booking for our 20th anniversary) a wonderful Left Bank hotel--whose name and address we had long since forgotten--that we had stayed at in our first trip to Paris. She did so by going to Google Earth and literally walking, (photographically speaking) down the streets adjoining the Musée d'Orsay (which she had remembered being nearby) until she spotted the hotel and captured its name and address.
Becoming Top of Mind and Top of Find In Select Trade Areas
As a fractional Chief Marketing Officer with four or more clients at any one time, the underlying outreach strategy for many of the brands I market is to be both Top of Mind and Top of Find. But in the past it was quite daunting to do the latter for clients with very precise local service areas. This meant mastering SEM, the process of building website traffic by purchasing ads/listings on Search engines, but in small, precise areas on a map and not across very broad-based DMAs, Cities limits or zip codes. SEM is all about making a brand one of the top three that pops up when a consumer is searching for a product or service and types in the relevant key word or phrase. But for companies who needed to focus their marketing spend on a prospects that match the combined criteria of specific demographics, lifestyle/lifestage characteristics, and most importantly, live in highly precise geographies, the risk of wasting impressions on customers these companies couldn't serve meant a Full Stop on SEM because who wants to pay for a single off-target communication to a so-called "prospect" who--even though his neighbor's home qualifies--can't buy their product or service because he lives in a residence that is on the wrong side of an invisible demarcation line that puts this residence outside of the company's service area boundaries. Currently I have two clients that are telecommunications companies who have precisely defined and limited service areas because of where they buried their fiber optic cables below ground and where they are within reach of some homes but not others.
Precise Mapping Apps that use Google Earth
The solution to identifying and marketing only to every service-area-eligible household among the estimated 10s of billions of searches per day conducted on Google, Bing, Yahoo and the lot, are apps that's are a mash up between a traditional direct marketing household data list qualifying process, and using advanced tools from Google Earth's amazing, searchable photo recreations of our planet and pretty much all of it's cities, towns and individual neighborhoods. Longitudes and latitudes are the inputs to start with, but even just pinpointing the four streets that define the boundary will do. But "seeing is believing", as they say, and being able to walk the neighborhood and refine judgments makes for even better hyper local marketing. Mapping apps of this laser-like nature are now being used to more precisely drive search marketing ads, digital display ads and pre-roll video campaigns restricted to tightly defined areas. The result of this new approach to mapping is a ton of traffic to my client's web sites and brand visibility from search engines driven by consumers looking to buy stuff my client's sell and living in areas that are enabled to let us sell and serve them there. My clients also use these same mapping apps at their web sites to determine whether a visiting prospect is inside the service area and eligible to become a customer or not. This same approach is applicable, thanks to GPS-location chips in mobile phones, to marketers targeting those who happen to be nearest to their fast food restaurants or retail locations as they drive through a trade area they might not live in. Then these brands (and my telco clients too) can utilize high-impact, hyper local mobile phone floater ads as another means of dominating highly localized, digital prospect impressions.
Bottom line, once you nail your geographic boundary and conform you eBlast/direct mail lists accordingly, determine the key Search words you aspire to own, optimize your web site for organic search, add on a ceiling in terms of the maximum tolerable paid search expenditure or PPC spend per month, and well, voilà as they say in Pair-ee, you've got localized SEM to the cellular level that's both ruthlessly efficient and makes it affordable to become the Top of Find brand proffered above the other organic or paid search options.