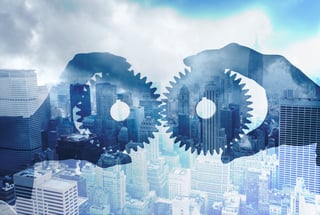 In my home state of South Carolina, the fibers of the American Civil War are tightly woven into its cultural fabric—as evidenced by the state's numerous driving routes, adorned with historic markers referencing significant wartime events. Follow these trails and you'll visit a variety of remarkable sites, including where the first shots of the Civil War were fired (Charleston Harbor) and the spot where Confederate troops mounted a desperate attempt to block General Sherman's advance across the Carolinas (Rivers Bridge).
Marshaling your own troops and running your small- to mid-sized business, day in and day out, might make you feel as if you're in a constant battle yourself—mustering the infantry in R&D to develop innovations, or taking a defensive position to fortify your organization against marketplace competitors. There is constant anxiety about losing ground. And constant pressure to advance.
Even if your company has been successful for some time, you may feel the pressure of flattening sales, a decline in core business, or sliding profits. Or, perhaps your sales team has heard growing rumors of a new competitive initiative that could potentially undermine troop morale and loyalty. Maybe it's time to consider an aggressive maneuver to capture a bigger chuck of your market battlefield.
One such strategy (which indeed has worked for small- and mid-sized militias for ages): Joining forces, via merger or acquisition, to create a stronger army.
This can be quite an undertaking, but your troops are tenacious and hungry. But what's the best approach? To determine which battle route is most prudent, let's review the two uniquely different types of mergers.
Merger with Consolidation occurs when Company A and Company B join to form Company C. Think Pre-Civil War history when our country was referred to as "THESE United States."
Acquisition happens when Company A acquires Company B and integrates Company B into Company A. Think post-Civil War following the "War of Northern Aggression," when the Confederate States were assimilated back into the Union. Afterward, we called our country "THE United States."
The M&A route, indeed, is a risky battlefield strategy. According to the International Institute of Management Development, it's estimated that approximately 60 percent of all mergers and acquisitions are unsuccessful. Less than coin-toss odds of success merit careful scrutiny – yet, if executed effectively, a merger or acquisition can have significant benefits for a small to mid-sized company.
Let's take a look are four distinct benefits that can be derived as a result of this strategic alignment:
Bigger can be better: Increasing the size of your forces and/or the scope of your weaponry can help you quickly beat smaller enemies. The aim is to dominate key markets by becoming the biggest, baddest, most well-fortified fighting force in a geographic area or vertical.
Stave off flank attacks and preempt the competition: It may be worthwhile for your company to snatch up a new technology or product line as a means of opening new markets or enhancing existing ones. Look at it this way—if Union forces hadn't made significant adjustments in raising and training their cavalry, not to mention acquiring the Henry Repeating Rifle, the Civil War might well have slogged on a whole lot longer.
Growth: Two armies combining their expertise and resources have the potential to conquer the world—well, at least, part of it. By combining assets, skills and a new unique position via a combined share of the market, growth opportunities for sales and revenue (not to mention profitability) are at your fingertips.
Synergy: Company A is similar to Company B (markets, products, etc.), and they compete head to head. Joining forces can offer economies of scale in both cost and resource reduction savings. By combining weaponry and soldiers, you can use fewer men and more cannons while blasting the enemy to smithereens. As a combined fighting force you might condense capital equipment expenses while achieving savings in the form of troop salaries, potentially reducing operational costs.
Like the "War Between the States," engaging in a merger or acquisition is not something to take lightly, but it could be the bold and courageous movement your company needs to accelerate profitability and growth in your industry.
Pressured to flank the competition? Examine your war chest and consider the possibility of a merger with consolidation or an acquisition—and wisely initiate the maneuver before your troops grow restless—or contemplate surrender.