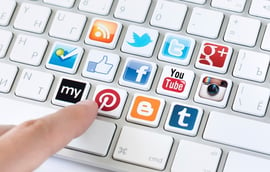 Social media plays such a pervasive role in our culture that it's only natural that CEOs want to use it to their advantage. But much of the time, the approaches used by their companies are ill-defined, half-hearted, and saddled with selling. Social media advocates often tout metrics that demonstrate audience growth and web traffic, but the real goal is engagement that can lead to sales. How you get there may surprise you.
The key to this brand of marketing is to think of social media as a vehicle. Would you buy a fleet of trucks without knowing what was being carried and to whom? So often, discussions about social media start with the vehicle: Facebook, Twitter, or LinkedIn. It seems acceptable today to say, "We should be on LinkedIn!" But we'd find someone odd if they started a conversation with, "We should buy trucks!"
The Value of Listening
So, for the moment, forget vehicles and start with listening. Survey the channels you're considering and pay close attention to what your customers and prospects are saying. Listen to what their concerns are and what they're trying to accomplish. Check and see how your competition is reacting, of course.
Then use that information to develop your strategy. Determine what you want to accomplish, how social media can help your organization, how much you want to invest in terms of time and budget, and what you expect the return to be. Do all that before moving forward with any tactical plans.
As you do this, remember that one of the biggest opportunities of social media is it gives you the ability to demonstrate leadership, innovation, what you're doing to help the industry, and what you're doing to help your customers be more successful. Social media gives you a voice. It allows you to communicate directly with your customers and prospects.
The Power of Paying It Forward
Most social media communication travels in one direction—"Hey, look what we did!"—and is never seen again. Your real goal is engagement, and one way to achieve that is by learning how to pay it forward and help others be successful. Prop up your partners, customers, and other key constituents as examples of success in your industry. Support their efforts. Make them look good. Develop relationships before you ever ask them to do anything for you or before you even think about trying to sell them something.
Another important component of success with social media is the creation of a social atmosphere within your own organization and making your employees aware of how they can help your company be successful through social media. In a lot of cases, executives will "own" the social media outlets for the organization and control the messages. In some cases, that might be necessary. In others, depending on the size of your organization and how it's structured, it may make more sense to have employees extend the reach of your social media by having them become much more social in terms of how they communicate with customers and prospects.
This requires some effort and making sure that the employees understand their roles in the strategy. You may want to consider developing a social media strategy document and a policy statement to give them guidance on what they should say and not say—without being too controlling.
Getting There Faster with Creativity
Some years ago, I approached the CEO at the nation's largest two-way radio dealer with an idea. Our Twitter account would feature a female cartoon superhero who would solve wireless communications crises with her superior knowledge of radio technology. Though skeptical, he approved Wireless Woman, and she went on to attract thousands of followers on social media.
While those numbers were impressive, the real value of that Twitter outreach was the many relationships with our partners and customers it helped to develop and foster. As in so many places in our metrics-driven business world, it is engagement, not a number, that's really the name of the game.