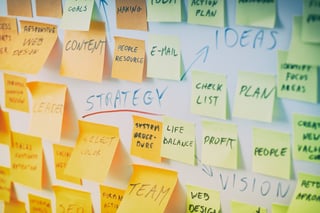 Strategic planning – two words that need not strike fear in the hearts of corporate executives.
After all, if you think about it, we've all been strategic planners since childhood – setting our objectives, then figuring out the best way to make them happen.
Like the time you figured out that if you wanted Santa Claus to come, you HAD better go to bed first. And when you were older and setting your sites on a special college. You did your research to understand what they were looking for, you took the right classes and participated in the best extra-curricular activities--all in an effort to present yourself as the type of student they would consider.
Of course, now that you are a CEO, the stakes around strategic planning are maybe just a tad bigger. In the bid to get our highest-quality products or services to the market, it will be the strategic planning process – scaled appropriately, of course – that will get us there. Understanding which combination of markets, pricing, offerings for each market segment, distribution channels, communication channels and the like is integral to cracking the ROI code. And with so many options to power today's strategic plan, it's hard to fully understand which to do first, and which to leave by the wayside.
In my experience, it's helpful to follow a five-step process that ensures alignment among the stakeholders in the process, and an outcome that truly suits the desired result. Let's begin:
State your objective in measureable terms. Just like when you were a child, you first need to identify your goal, and be able to know if and when you achieve it. Do you want a certain amount of revenue, share of market or new sales in a 12-month period? There is no one right measure, just the one that makes sense for your company. Find that indicator, and let's be certain that its outcome can be tracked and measured. This can be like pulling teeth, but persist: you must have the goal in mind before you move on to step two.
Know what problems you solve for whom. Many companies are great at describing their product, its features and why it's better than the other company's product. What many don't know is what problem they are solving – and for whom. To learn what problems your product or service solves this requires getting out of your office, physically or virtually, and communicating with your prospects and customers. You want to gather information from them about who they are, what they like and don't like about a variety of things, a description of their challenges (some will be solved by your product, some will not) and when it comes to products like yours, what is most important to them? I find that management teams are often surprised by the insights and usually learn something new and important about how to go to market. This type of insight can also help companies identify segments of the population with distinct wants and needs – for example, users of athletic shoes. The senior citizen mall walker and high school track star are both consumers, but they have different needs and desires, from fit to color and brand status.
Know your competitor. While it's more interesting and fun to focus on building your own offering, operating your company and growing to the next level, it's critical to understand the strengths, weaknesses and strategy of your competition. The better you know what your competitors are up to, the more responsive and pre-emptive you can be. In the book The Growth Gears, authors Art Saxby and Pete Hayes cite Southwest Airlines as a company who knew the competition and was ready to react.
"At the exact moment that all its competitors were saying that they were going to charge for baggage, Southwest came out and said that it wasn't going to do that; instead, Southwest said that you could check your bags for free." It was a great way to differentiate themselves from the other airlines.
Know your company. Now this may sound just plain silly. You're the CEO -- of course you know your company. But as your company grows, you and your management team members may answer key questions differently. While you are all trying to pull in the same direction, it's difficult to get traction for growth because each individual has a slightly different view of the company, as well as answers to strategic questions like:

What is your organization passionate about? What are particularly good at?
What factors, both internal and external, drive your economic engine?
Who are your most profitable customers? Your most unprofitable customers?
What are the biggest factors affecting your expenses?
Why do customers fall into one category or another?
I've seen it happen many times -- once the CEO and the entire management team are working from the same vision and understanding of the company, they can create a strategy or playbook, and powerfully execute to achieve their goals. On the flip side, I've also observed companies who churn for years trying to gain agreement among the management team—the results are a company that is pulled in different directions, and either doesn't grow, or under-achieves its potential.
5. Identify your best growth strategy. Once you have established your measureable goals and have insight from your customers and prospects, understand your competition and have your management on the same page, it's time to leverage all of those great insights to develop a growth strategy. One way to look at your options is with a four-quadrant box, like this one, published in the pages of The Growth Gears.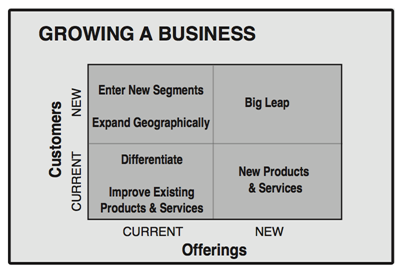 In this chart, the bottom row represents current customers, and the top row represents new customers; the left-hand column represents current offerings, and the right-hand column represents new offerings. By playing out each scenario, you can see the impact of your decision-making at this stage – for example, by sticking with current customers and offering selections from your current product lineup, you will need to find ways to differentiate, or to improve your existing offering, in order to grow your business using this strategic model.
Most importantly, take a deep breath – if you've come this far, you're ready to be strategic. Unlike those days of our childhood, you've got a great team – your senior leaders – along for the ride.
What has your company done to prepare for its strategic planning process?