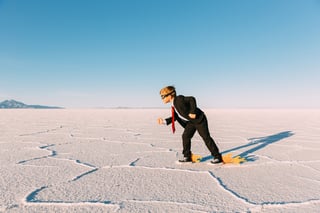 Welcome to Step No. 3 of 3! By making it here, you have hopefully completed the initial steps to SWOT success. Is your SWOT consolidated? Check. TOWS matrices built? Check.
Now, it's time to fully activate — or shall we say, execute — your SWOT to propel and grow your business. As you recall, the initial steps of this process have been focused on eliminating the inertia that often follows the SWOT exercise at most companies. You've leveraged and defended your strengths, weaknesses, opportunities and threats. You've processed them through the TOWS matrix in Step 2 to uncover immediate and actionable changes — mini-strategies that can alter your market position and engage the mechanisms necessary to grow your company's business.
But how do we activate them? How do we execute in a meaningful way that will
improve your ability to combat product offering weaknesses, help you to be more marketplace competitive and allow you to take advantage and capture real opportunities?
Let's start by designating a point person for each TOWS initiative and each project/task/tactic. Remember that you commenced this journey with a bunch of stakeholders who weighed in during both the SWOT and TOWS stages. It will take their efforts and those of others in supporting roles at your company to bring things to life.
However, one — and only one — person must be the accountable point for the overall formulation and execution of a particular initiative — either delegating elements, or keeping some for their own care and feeding.
Let's look at this through the TOWS matrix example from Step 2, the healthcare company. You will recall under the heading "Strategies that leverage strengths to defend against threats," we developed several supporting initiatives. So here's what an activation project/task would look like for two examples:
Initiative 1: Marketing & Sales campaign highlighting our presence and attentiveness to admin and patients (value of small practice organization)
As the outsourced Chief Marketing Officer for my client, this would fall to me. All roads lead to messaging, and messaging is a big element — building a voice that resonates with the stakeholders in the marketplace and infusing that into our marketing message and content.

When executing we will want to ensure that we are including the voice of our healthcare providers — the doctors, nurse practitioners and physician's assistants in our practice. The deliverable will include a "marketing script of sorts" so that we are all speaking with one voice, whether internally or externally, to stakeholders. Similarly, there should be sales-specific messaging that's tailored for business development efforts.
Initiative 2: Research and document via case studies/client testimonials our ability to quickly pivot, provide quality care and adjust to administrative needs at target health care facilities
I will need some assistance in executing this, but I'm the appropriate one to take point as this falls to marketing. I'll work with the company administrator and the CEO to identify and engage in a client research/case study creation project.
I will also coordinate and manage the research, document the results, and report outcomes to the CEO. If it were a really big project, we might outsource to a supplier.
Hopefully, what you're observing so far is how critical the point person must be in achieving SWOT Activation. Now all that's left to do is engage and finish the projects!
One final bit of advice: Remember that accountability is key. Be sure to:
Folks, the entire process may seem complex, but it's really not. Master the activation of your company's SWOT and you will conquer the world — or at least, your marketplace.
Good luck, and please reach out with questions, comments and successes.