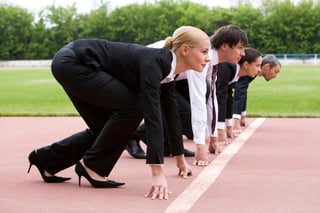 Congratulations – you found a way to hang on, childhood stories and all, through seven of the 10 reasons why your SWOT analysis is really a SWAG! Give yourself a high five while reexamining the SWOT process and what it means to your business. You're almost ready to reengage and take action. This is very important, because you must ACTIVATE the SWOT to complete the mission.
In case you're wondering, ACTIVATE stands for, "Always Circumnavigate The Internal Volume And Totally Emote."
Just kidding.
Activate doesn't stand for anything. It's simply a no-nonsense word that implies something is really about to happen. While you're only steps away from the finish line, you still need to uncover the last of the potential pitfalls in the SWOT vs. SWAG game to navigate the path to success.
To that journey, here are the final three reasons why your SWOT may be a SWAG:
Reason #8: Ready, Aim, Fire: Let's Fix It…Now!
Some eager groups dive into rambling tactical discussions before the SWOT exercises are finished. The whole conversation is premature and a waste of time. The last clue to finding the SWOT Holy Grail is a follow up step called SWOT Activation, but it happens after the analysis is complete – not during it.
As you conduct your analysis, don't start firing aimlessly at every shiny object. Avoid trying to handle anything while you're in the grass roots phase, outlining the basic next steps.
Focus on S, W, O, and T…One. At. A. Time.
Reason #9: Anybody Can Facilitate
Anybody can facilitate a SWOT, you say. Yes, I suppose that's true. By the same token, anybody can do standup comedy. Except for my brother, Phillip. He's not funny, and he doesn't like crowds. That's why he lives a "backwoods," Spartan-esque lifestyle in Alaska. But I digress.
While it doesn't require slick platform skills or mad PowerPoint prowess to facilitate an effective SWOT, it does take experience, a trained and objective eye, and clear insight into the growth gears of businesses—not to mention a degree of outright boldness.
Does your SWOT facilitator have what it takes?
No bones about it, the best facilitators are on a vigilant search for the truth. Unfortunately, many SWOT leaders often lack the business experience and communication skills to effectively prompt and lead a team into the daunting arena of blood, sweat and tears required to get the SWOT job done.
"Prove it to me," I said to the company president after he announced to the group that their business was the dominant and most respected in their marketplace.
"We do more business than our competitors," he said. "Everybody knows that."
"How do you know?" I asked.
Crickets.
"At least…I think we do," he blurted. "Wouldn't you guys agree?" He glanced around the room looking for support.
Cicadas.
At the risk of presenting myself as a wrecking ball/bull in the china shop, the initial tone-setting of that meeting was all about open and transparent honesty, checking your ego at the door, and having a thick skin. "Let it all hang out" is a whole lot better in a SWOT analysis than staying quiet in a calculated effort to avoid a career limiting move.
In The Five Dysfunctions of a Team: A Leadership Fable, Patrick Lencioni says, "Great teams do not hold back with one another. They are unafraid to air their dirty laundry. They admit their mistakes, their weaknesses, and their concerns without fear of reprisal."
Do you want a great SWOT? Challenge the group by giving them the license, without fear of recourse, to say what they think and ask what they need. And if you're the big guy or gal in charge, let them challenge you without limitation. Just be ready to take the pain.
After all, for the session to result in time well spent, you need to seek, find, and record the truth. Give the group the license to say what they think and ask what they need, and you'll find the the secret sauce of the SWOT experience.
In the end, however, you'll live and die by the effectiveness of your SWOT facilitator.
Reason #10: There's No Follow-Up
Without an activation process, you've practically wasted your time with the SWOT. Even with an excellent facilitator, if you don't act on what you've uncovered, you're doomed to repeat past business mistakes.
After all, the old saying, "If you always do what you've always done, you'll always get what you've always gotten" doesn't apply in business. The market is always changing; the competition is desperately trying to flank you, and your customers want more value and better solutions. Meanwhile, over in Orange County, California, two recent Stanford graduates are working feverishly in a dimly lit garage on a much better mousetrap that will absolutely crush your business.
The best way to set action into motion after a SWOT analysis is to activate the SWOT. Very simply, ask the hard questions and build a plan of action for each listed item. For each category, build the strategies and tactics that will effectively address the findings for each area.
Concentrate on actions and document who, what, and when as it relates to the following:
STRENGTHS: How can we use or leverage each strength?
WEAKNESSES: How can we build to stop or counter each weakness?
OPPORTUNITIES: How can we exploit or capitalize on each opportunity?
THREATS: How can we defend against each threat?
Again, be sure you put someone on point for each action/task/project. Be specific about the task and put goal completion end dates in place.
Failing to activate post-SWOT is the dropped baton of business planning. Don't let it happen to your team. Focus on the fundamentals in the SWOT and leave the SWAG awkwardly alone at the door.
You're now ready to set your new and improved SWOT business analysis in motion, all thanks to a refreshed view of the fundamentals and a little southern hospitality. In the future, if you're ever in doubt as to whether you have a SWOT or a SWAG on your hands, take a peek at these 10 reasons and right the ship.
In the meantime, keep SWOT-ing, keep activating – and say goodbye to the SWAG forever.