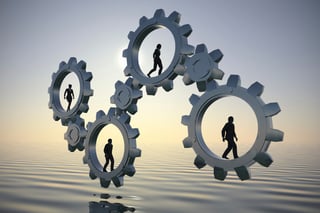 Once upon a time, many businesses thought of sales and marketing in a very black-and-white world–where salespeople were salespeople – and marketers were marketers.
In this world, the customer's journey (and, therefore, how you acquire customers) was well-defined and linear. The marketer built marketing plans to entice and interest the prospect, supported by ads, events, collateral pieces, and customer experiences. Once a prospect read the pamphlet, walked up to a snazzy-looking booth, or happened across an ad, the charismatic, bright-eyed salesperson would swoop in, perform deal-making magic, and put a lid on the transaction.
But today's prospective B2B customer is not traveling on yesterday's buyer's journey. Instead, they stand in front of you expecting not to be sold. Now, they either bid out commodities or work with trusted macro-partners with whom they can do business on a long-term basis. These vastly different customer behaviors and expectations force us to both re-evaluate and re-engineer our sales processes, with the mindset that sales and marketing are cohesive units that work together in harmony.
As a result, modern sales and marketing are now both responsible for results at every stage of the sales process. And, thanks to the digital revolution and the advent of data analytics, we can pinpoint exactly what those results should be – and how to get them. The challenge? It lies in learning how to make that information work for your company – and your clients.
Customer Driven Sales and Marketing
You may have heard about "big data" or "data-driven marketing." If you have, that's great– because not that long ago, most of us, even at the global marketing executive level, simply weren't privy to quantifiable, data-driven insights – or even a revenue target. You can call this way of measuring marketing success "haphazard" at best.
With the wealth of data being accumulated every day, we now have amazing opportunities to base marketing programs upon true customer insights. To illustrate, I recently spoke with a prospect that is heavily reliant on marketing the company to other businesses in the digital space. They recently conducted a study that showed that impressions are actually more reliable for them than clickthroughs in terms of generating revenue. Since they had utilized the back-end analytics and tracking systems to obtain that data, they were able to draw that important, direct correlation between sales and marketing. Yes, today, there's a way to measure everything.
But having data–and using it–are two different things. The most common problem I see is that, even when a B2B organization has the best intentions and systems in place, they don't have a way to connect the dots between their data sets. They spend too much time extrapolating data, rather than defining a better way to regularly and quickly get that data, and they lose ground rapidly against competitors. This is where IT and Marketing need to partner. Investing in IT systems in order to gain a more holistic view of your sales and marketing challenges and successes will help you to better understand and to serve your customers.
The other issue I see is shared purpose. As a CEO, it's your mission to ensure that your integrated sales and marketing strategy, and your goals, are in focus for your entire team, and that everyone is on the same page. No individual or group should operate in a vacuum. Help strengthen this mindset within your company by ensuring that you hire people who have a collaborative spirit. Find team members who will help you build a strong culture from the top, then drive individual accountability and reward employees for hitting results-oriented goals.
In a crowded digital system, it's imperative to use your team and tools to quickly and effectively stand out from the noisy competition. The ultimate goal, then, is to execute your unique product or service better than competitors and effectively meet market needs. This will ultimately lower the cost to serve, acquire and retain your customers. And that is precisely where sales meets marketing.