Whether you know it or not, your 2020 plan is going to include some form of wireless connectivity to the web. Everything from fridges to shower heads will have some form of always-on link –delivering value-added conveniences to customers while streaming bits of valuable and actionable information to the marketers on the other end (within the guidelines of reasonable expectations of privacy, of course).
The Internet of Things (a term so revered it even has its own "official" abbreviation – IoT) is taking the world by storm – thus far, slowly creeping its way into our lives – but about ready to explode with force.
Respected research organization Gartner projects that, by the year 2020, 13.1 billion (with a "b") consumer products will be IoT-connected – a 600 percent increase from 2015. As an example of what this brave new world might look like, do you remember that song lyric – "Drove my Chevy to the levee, but the levee was dry"?
With IoT connectivity, a device measuring water volume will stream dynamic data about the levee to the web; your Chevy, equipped with satellite data to get you to the levee, also has an LTE connection so you already know about the empty levee; and a small Bluetooth device that you adhered to your 30-gallon water bucket will help you quickly find it in the attic, so lack of water will not be a problem on this particular journey.
Of course, all of this is pointless if you can't open your garage door to begin your journey – and indeed, the IoT has even transformed this mundane, unheeded workhorse.
If you are still not convinced at how quickly the universe is spinning, perhaps a look at how changes undertaken during a recently-completed five-year transformational period turned the garage door opener business on its head.
Let's travel back in time to 2008, when the prevailing trends relative to garage door openers were consumer convenience and safety. Though in the past, all the consumer wanted was smooth, steady and long-lasting operation, now, they were demanding "intelligence" from the opener – and at this point, questions like whether the door had been left open all night were being answered by third-parties who were developing standalone – yet incompatible – devices.
So, when a leading company decided it was time to develop a "smart" garage door opener, they knew they had to develop technologies that were both in step with demands for new conveniences – and flexible enough to resist obsolescence, since the opener would, most likely, faithfully serve for a decade or longer.
Such a critical result required a strategic roadmapping process – one that involved understanding insights, the market, emerging technologies, and available resources – all variables that are constantly in flux in a rapidly evolving technological landscape.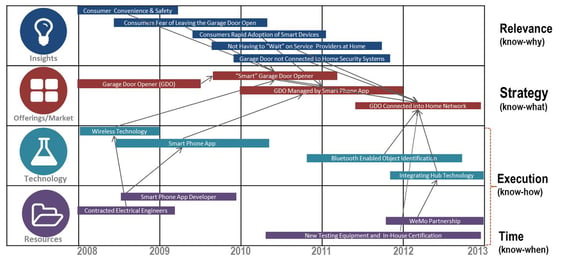 Some baseline "values" for each section:
Insights or Relevance: We knew the consumer was demanding added conveniences and safety from their opener. They wanted to know if the door had been left open, of course – but also wanted the capability use their smartphone to close it from anywhere. They also wanted to know if a key component -- the door spring -- was at risk of catastrophic failure.
The Market: It was clear that most garage door opener manufacturers would release some form of "smart" opener – but understanding what features would be most demanded – for example, integration into home networks, or control via smart phone apps – was critical.
Technology:

It seemed obvious that 802.11 standards – more commonly known as Wi-Fi – would be the safest bet for enabling two-way communications for the opener unit. (As the chart indicates, Bluetooth and hub technologies became integral options later on).
Resources: Since understanding and applying wireless technology was a new capability, a significant number of electrical engineers had to be added to the new product development team.
The arrows on the attached chart indicate the interrelationship between the roadmap inputs – as well as the challenges presented by the rapid adoption of smartphones during this five-year span. Partners and vendors that barely existed in 2008 – app developers and hub partners like WeMo, to name a couple – ended up being a critical component of delivering an acceptable next-gen opener to the masses.
Although this was a simplified (and illustrative) example of a roadmap, I hope several benefits were evident:
Once you begin introducing new technology into your products, you can build off of it for several generations of the same product or introduce into complimentary products to maximize your return on your investment.
It is very important to take the time up front to do a deep dive on insights and technology before beginning the roadmapping process.
Since new technology in product development may require adding new capabilities to the organization, you need to have a long-term plan.
Ready to apply some road-mapping brilliance to your own product evolutionary process? Stay tuned – in the next article, we'll look at the growth gears which can set your churning on the road to gaining insights, which will power your own strategies toward future-forward solutions.
This is the second article in a five-part series. Read the first article here and be sure to check back for the full series. Look for the upcoming articles where we'll talk about how you can leverage the talents of your executives and stakeholders in developing a roadmap that will help you to be in control of your future – rather than the future controlling YOU.