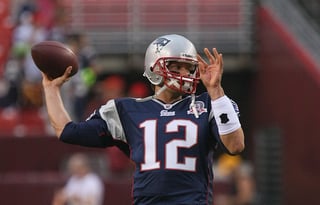 Employ the Secrets of the New England Patriots' Quarterback To Create Your Own Winning Game Plan
Whether or not you like the NFL's New England Patriots, they keep winning -- and always find themselves in playoff contention.
So, what's their secret? Is it better players? Probably not. They always seem to find new or no-name players who seem to outperform on game day, to everyone's amazement. Is it better coaching or a better playbook? Maybe, but every NFL team has similar offensive and defensive playbooks.
Or, is Tom Brady just a superior quarterback, physically and mentally, at age 39? There has to be something more that drives the Patriots' and Brady's success.
As a marketing guy who spends a lot of time analyzing markets and the competition for clients, I believe Brady's consistent command performances have more to do with game preparation; more so than any other factor. And, in Brady's case, it starts with relentless review of game film. In fact, no one in the pro football game reviews more game films the Brady. And Coach Bill Belichick is often right there with him.
While most athletes are intent on honing their successes in the training room or on the practice field, Brady takes a different tack – cordoning himself off in a room and watching films ad nauseam for hours.
The reason is simple: After watching and re-watching play after play, Brady develops important insights into the competition's habits, strengths, and weaknesses. He then huddles with his coaches to come up with a game plan that bakes in an inherent edge before the coin is tossed at midfield.
As marketers, we can take away a lot from Tom Brady's recipe for success. In fact, here at Chief Outsiders, we have our own playbook – The Growth Gears, co-authored by our founders, Pete Hayes and Art Saxby.
In the book, Hayes and Saxby outline three gears that turn together to propel a marketing organization from an also-ran, to a powerhouse. The first gear, insights, reminds us of the lessons that Brady has taught us the football world.
If CEOs really want to outplay the competition and accelerate growth, they must start with the same type of competitive analysis that Brady brings to game – long before the first play is called. Indeed, the days of operating tactically are long over in today's constantly changing and competitive markets, according to a recent article by Marketingland. It cited a study by Salesforce that noted that businesses will be analyzing 83 percent more data points in 2020 than they were in 2015. And another study by Regalix found that nearly two-thirds of B2B marketers credited such analytics as the main driver of double-digit corporate sales growth.
In the corporate world, we are trying to develop a keen understanding of our customers, the competitive landscape, and our company. As Hayes and Saxby advise, you should be crunching analytics to define some key truths about each of these components. Namely:
Customer: Who is buying your product or service? What are the biggest factors that affect profitability? Why does the customer need or want you? How are they making decisions?
Competition: What drives your competition's economic engine? What factors lead to increases or decreases in pricing in the marketplace? How are they reviewed and regarded on the Internet and in social media sites, like LinkedIn? If I was my competition, what would my SWOT analysis look like?
Company: What is your organization passionate about? Who are you most and least profitable customers? Do you have a clearly understood value proposition? What are the biggest factors that affect how you price your product or service?
Analyzing your markets and developing keen insights that inform marketing strategy, and marketing plans, is referred to as "Big M" marketing. And "Big M," when done right, will allow you to create marketing plans (game plans) that give you the edge on game day, just like the advantage enjoyed by Brady and the Patriots.
Finally, one truth cannot be understated: You have to have the right players surrounding you to turn these marketing insights into a winning game plan. Considering that just 5 percent of CEOs believe that their internal teams have the right skills and experience to support data-driven market planning, you'll want to enlist the help of a chief marketer that can play both "quarterback" and "general manager" – helping you to muster the right teammates to execute for success.
Insights into your markets from every point of view – like Brady's insights from game films – are the key catalysts for growth. Make sure you have someone on your team who has the experience and knowhow to develop winning game plans based on deep insights into your business, markets and competition.